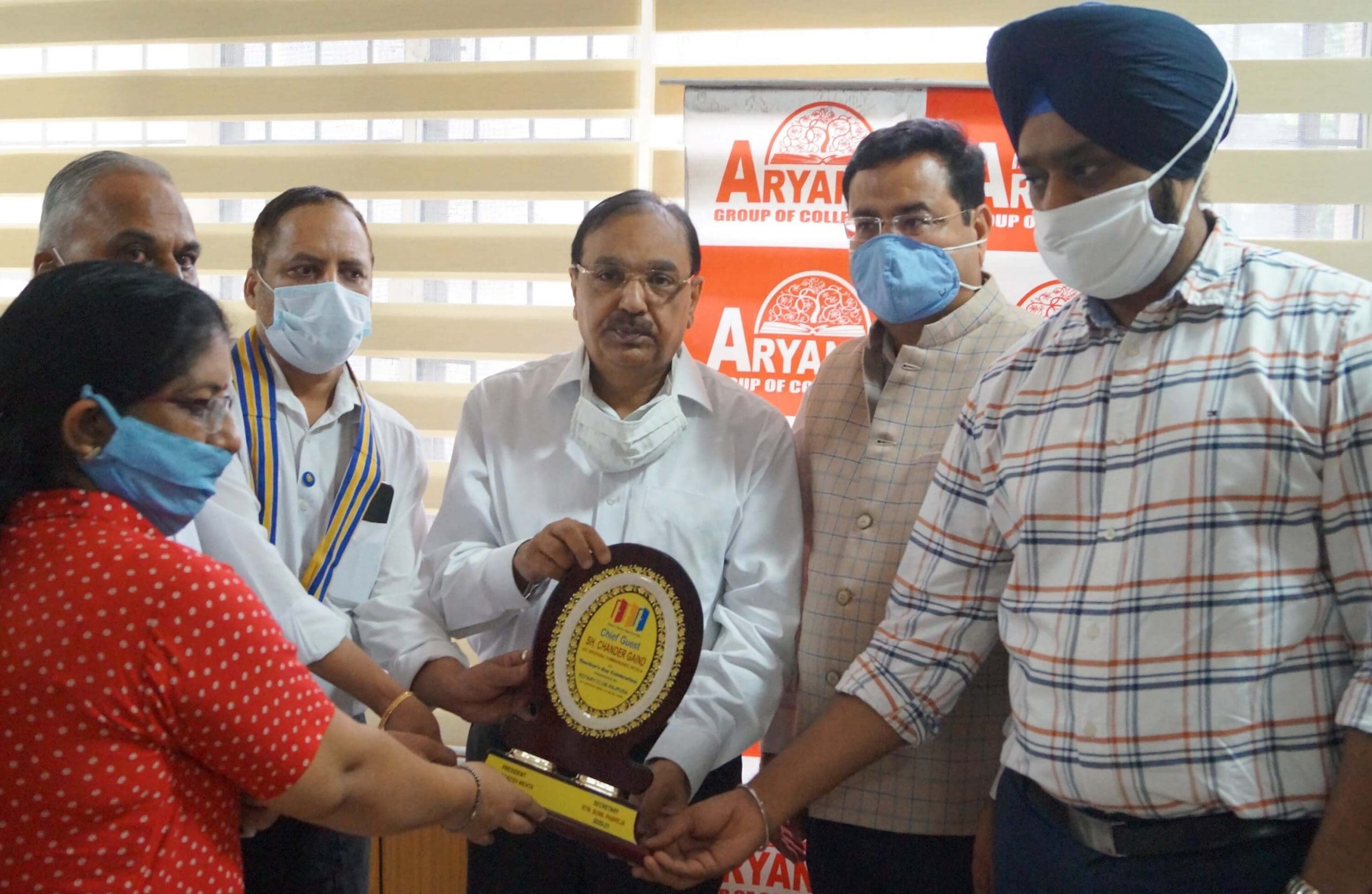 Aryans Teachers honoured by Divisional Commissioner, Patiala on Teacher's Day
Mohali 4th September
Teachers day was celebrated by Aryans Group of colleges Rajpura, Near Chandigarh & Rotary Club Rajpura. The Divisional Commissioner, Patiala, IAS Sh. Chander Gaind was Chief Guest on this occasion & Dr. Anshu Kataria, Chairman, Aryans Group of colleges was Guest of Honor. Advocate Rakesh Mehta, President, Rotary Club, Rajpura presided over the function. In this function around 12 government & non government teachers from Rajpura tehsil were honoured by the chief guest.
The Divisional Commissioner while addressing said that our teachers are the true pillars of our success. They nourish and prepare students for their future as they are the real icon of knowledge and wisdom. He explained the transformative role of a teacher in a student's life.
Dr Kataria while interacting said that a teacher is a friend, philosopher, and a guide, who instills confidence in young minds, gives them direction and encourages them to dream. Teachers spend all their years in educating us and helping us become better human beings, he added.
It is to mention that, Rotary Club Rajpura was established in 1966 & from more than 55 years working for noble cause for society.
Advocate Mehta said that total 12 teachers including Punika Mahajan, Kusum Sood & Manpreet Mann, Aryans Group of Colleges; Jaswinder Kaur, Scholar Public School; Rimpi Verma, Govt. Elementry School, Rajpura; Renu Raheja, Govt Elementry School (Pehar kalla); Jasvir Kaur, Govt Senior Secondary Girls School, Rajpura; Sh. Sumit Kumar, Govt. Coed. Senior. Secondary School, Ntc Rajpura; Lalit, Patel Public School, Rajpura Monia Sofat, Govt Middle School Khanpur; Bharti Joshi, Scholar Public School, Rajpura were honoured.
Sh. Parveen Aneja, Past President Rotary Club, Rajpura; Sh. Sunil Pabreja, Secretary, Rotary Club, Rajpura, Sh. Barjinder Gupta, Sh. Sandeep Ahuja, Sh. Arvinder Pal Singh Raju, Tejvir Jaildar, Rishi Shahi, Daya Singh & Sandeep Chaudhary were present on this occasion.
---
Related Posts
---