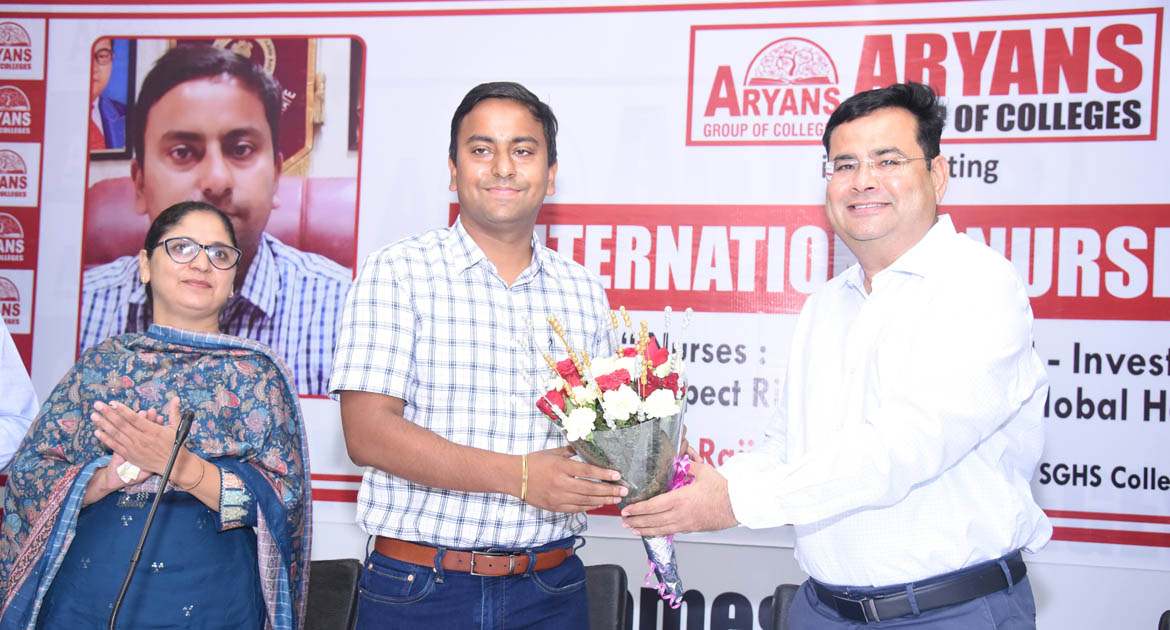 SDM, Rajpura addresses Aryans Nursing students
International Nurses day celebrated at Aryans
To focus on the true value of nurses to the people of the world, Aryans Institute of Nursing (AIN), Rajpura Near Chandigarh celebrated International Nurses Day on this year theme "Nurses: A Voice to Lead – Invest in Nursing and respect rights to secure global health". Mr. Himanshu Gupta (PCS), SDM, Rajpura was the Chief Guest of the occasion Mrs Rajinder Kaur, Principal, SGHS College of Nursing was the Guest of Honour. Dr. Anshu Kataria, Chairman, Aryans Group presided over the event.
Gupta while addressing nursing faculty & students highlighted on the importance of contributing to humanity and outstanding role played by nurses. He expressed his deep sense of gratitude to the nurses who are on the front line to save mankind, especially during this Covid pandemic & stressed on encouraging the present generation to join Nursing. He also said that teachers play a major role in the future nursing education and to bring the best out of the students.
Aryans Nursing students including B. Sc. Nursing, GNM & ANM pledged their noble profession, under leadership of Mrs. Rajinder Kaur. She said that today nursing has evolved into a profession with wealth of skills and professional knowledge but the world is facing an acute shortage of nurses and nurses are overburdened, which further increases the stress among them. Recognizing nurses and their work would definitely motivate the nurses for better output, which will improve patient care, added Kaur.
Ms. Nidhi, Principal, AIN said that Nurses are the largest group of health professionals, who are the closest and often the only available health workers to the public. Sufficient, adequately trained and motivated nurses are essential for the health of the population. Equitable access to necessary health services of good quality cannot be achieved without an adequate number of appropriately prepared nurses, she said.
It is to be mentioned that International Nurses Day is celebrated around the world on May 12, birth anniversary of Florence Nightingale, to mark the contributions nurses make to society. Nursing students participated in various cultural activities on the occasion. Ms. Neha Thakur, Ms. Himanshi, Ms. Nandini, Ms. Kanika, faculty, AIN were present.
---
Related Posts
---