"Winning isn't everything… It's The Only Thing."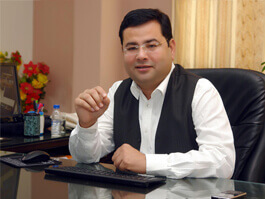 It is a great opportunity for me to introduce Aryans Group of Colleges, Chandigarh. The Chinese proverb goes…"If you are planning for a year, sow rice; if you are planning for a decade, plant trees; if you are planning for a lifetime, educate people." This sums up the entire philosophy of Aryans Group of Colleges, Chandigarh.
In a globalized, market driven and interconnected world, both individuals as well as institutions are attempting to make a trans-cultural impact. The need of the hour is to produce men and women who are visionary, dynamic and innovative. So, in order to cater to the requirements of today's corporate world we are offering the programme that endeavours holistic development of its students, thereby making them intellectually, socially, physically and spiritually balanced human beings.
At Aryans, we have a tradition of nurturing leadership qualities alongside developing capabilities to challenge the state of art technologies. This we do by inspiring you to involve into a whole lot of innovative projects being pursued by the inspired student community under the guidance of their faculty mentors.
We believe in an education system that looks beyond employment and concentrates on individual development by imparting life skills and enhancing life time opportunities. Our distinctive teaching methodology imparts education through modern learning techniques, which are characterized by brainstorming sessions, seminars, case studies, project presentations, career fests, workshops and several other functions so as to further strengthen presentation and organizing acumen. Academic excellence, holistic education, innovative approach and global relevance continue to be the corner stone of Aryans educational philosophy. You are fortunate that you can utilize services of Aryans College of Education and its hi-tech infrastructure for improving your professional qualification to build a magnificent career in teaching. Its ever improving faculty, curriculum, methodology and facilities will ensure that you can embark on a global career. So go ahead and grab this wonderful opportunity if you really want to drive in a fast lane. Fast forward your career with Aryans and re-programme your mind.
With best regards
Dr. Anshu Kataria