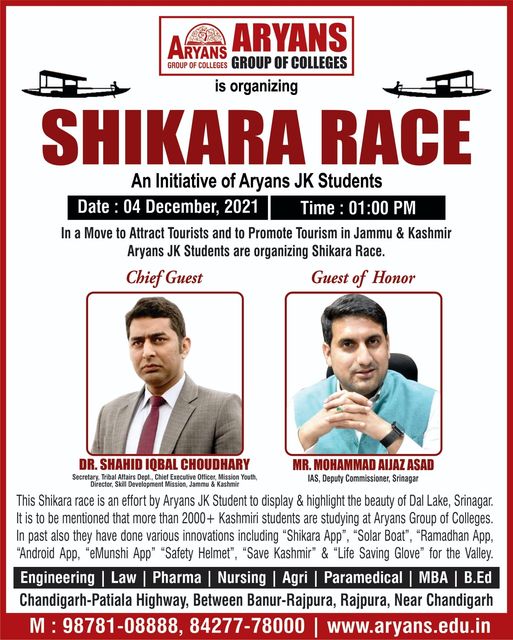 Aryans students to Organize Shikara Race at Dal Lake Srinagar
Secretary, Tribal Affairs, JK & DC Srinagar to flag off the race
To promote tourism in Jammu & Kashmir, Aryans group of Colleges, Rajpura, Near Chandigarh is organizing Shikara Race in world famous Dal Lake, at Nehru Park, Srinagar on 4th Dec. This event is an initiative of Aryans JK students in a move to attract tourists.
The event would be graced by Dr. Shahid Iqbal Choudhary, Secretary, Tribal Affairs Department, Chief Executive Officer, Mission Youth, Mission Director, Skill Development Mission, Jammu & Kashmir as a Chief Guest & Mr. Mohammad Aijaz Asad, IAS, Deputy Commissioner, Srinagar as Guest of Honour. Dr. Anshu Kataria, Chairman, Aryans Group would preside over the event.
JK representative of Aryans & Faculty, Aryans College of Engineering, Er. Mudasir Sheikh Ahmad said that Aryans Group organizes various events every year in J&K. It is expected that the shikara race will witness tourists in large numbers. The winners including 1st, 2nd & 3rd positions will be suitably rewarded, added Ahmad.
While giving more information Er. Shahid Lone, Faculty, Aryans Group said that in past also they have done various innovations including "Shikara App", "Solar Boat", "Ramadhan App,"Android App, "eMunshi App" "Safety Helmet", "Save Kashmir" & "Life Saving Glove" for the Valley.
It is to be mentioned that over 2000 kashmiri students are studying in Aryans in various colleges including Aryans College of Engineering, Aryans Business School, Aryans Institute of Management & Technology, Aryans College of Education, Aryans Institute of Nursing, Aryans Degree College, Aryans College of Law & Aryans College of Pharmacy.
---
Related Posts
---