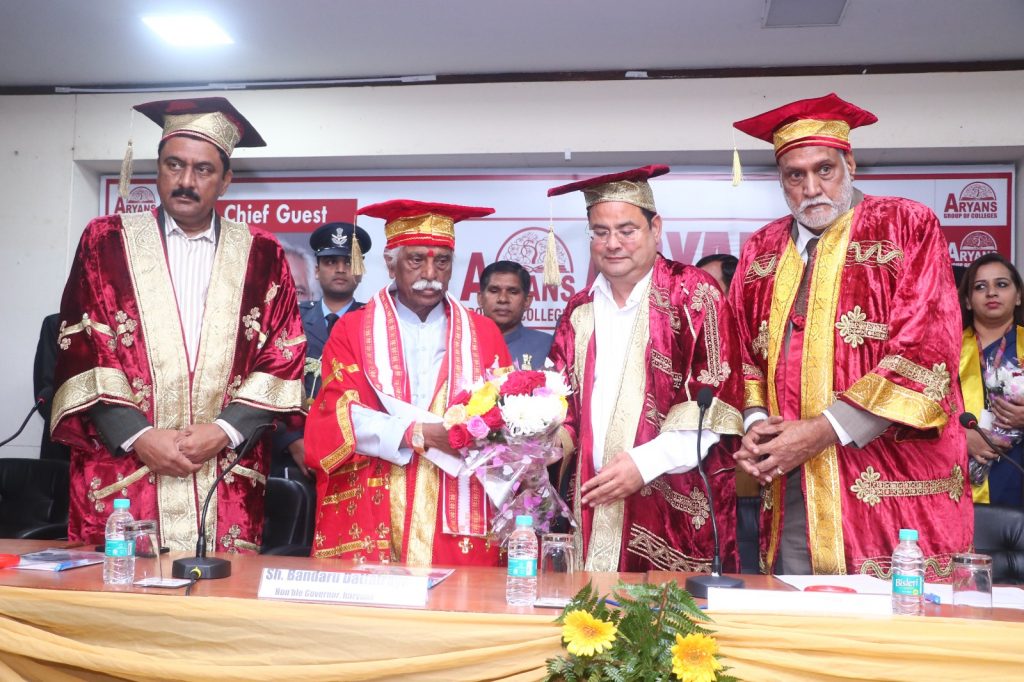 Member Secretary, AICTE, New Delhi & Joint Director , Medical Education were Guests of Honor
Mohali, 25 November
Aryans Group of Colleges, Rajpura, Near Chandigarh today held its 12th Convocation in PHD Chamber of Commerce & Industry, Sec 31, Chandigarh. Governor, Haryana Sh. Bandaru Dattatraya was the Chief Guest while Prof. Rajive Kumar, Member Secretary All India Council of Technical Education (AICTE), New Delhi & Dr. Puneet Girdhar, Joint Director, Medical Education and research were the Guest of Honor. Dr. Anshu Kataria, Chairman, Aryans Group presided over the function. The meritorious students approx. 125 from various programs including Engineering, Law etc were conferred degrees. The convocation ceremony started with the Lamp Lighting ceremony followed by a welcome prayer.
Governor, Haryana in his convocation address while congratulating the students said that degree holders have to decide for themselves whether they want to become a job creator or a job provider. The process of learning in life does not end, but from today is the beginning of new education and achieving new goals", said Dattatraya. He exhorted the students to develop the ability to lead the society and move ahead by examining the opportunity. It is a matter of pride for us that the new education policy 2020 has been prepared under the leadership of our country's illustrious and dynamic Prime Minister Shri Narendra Modi, it is an excellent education policy. It emphasize on practical knowledge rather than theoretical learning. & joining hands with the leading initiatives and major schemes of the Government of India like Make in India & Startup India.
Governor further said that youth were the assets of the country and should contribute towards nation building activities. He said that the nation could develop only when youth were focused, disciplined and growth oriented and urged students to inculcate good values like discipline, patriotism, sincerity and devotion, added Governor.
Bandaru Dattatraya said that it is not merely convocation but a new beginning for another challenging life. Students of today are the Founders of tomorrow's Nation. We need to bring down the strong boundaries that we have put on the students to help them grow in their desired field. Students should also have right kind of attitude to grow and have success in life, they should be open to learning, be creative and think about societal problems", he added. He advised the students to become a good citizen and work day and night to earn Fame for themselves and the entire Country. Be proud of being Indians and having studied in India as we have excelled in all fields, He added.
Governor Haryana further said that Aryans is among those Colleges which is doing a good job in the overall development of its students. He congratulated the management of Aryans which was started with just 100 students and 1 College and now is imparting quality education to over 3500 students in 8 Colleges including Engineering, Law, Management, Nursing, Pharmacy, Degree, Education, Paramedical etc. He advised the graduates and postgraduates to register themselves at their employment exchange offices at their respective districts so that they can be contacted for the various job openings in their state as well as across the Country.
Dr. Anshu Kataria while congratulating the students said that it's a proud moment for Aryans to add these young talents for the progress of the Society. Kataria said that we don't need Funds from our alumni, but we want these students to Earn Name and Fame for themselves, Society and their Nation in the coming years.
Prof Rajive Kumar, Member, AICTE, New Delhi & Dr. Puneet Girdhar, Joint Director, Medical Education & Research, Punjab also shared their vision and congratulated the graduating students.
Prof. Roshan Lal Kataria, Mrs Rajni Kataria (Founders); Dr. Parveen Kataria, Director General, Aryans Group of Colleges; Dr. J.K. Saini Principal, Aryans College of Engineering; Dr. Garima Thakur, Deputy Director, Aryans Group; Mrs. Kusum Sood, Dean, Academics; Dr. Devinder Singla Principal, Aryans College of Law; Dr. Krishan Singla Principal, Aryans College of Pharmacy; Mrs. Nidhi Chopra Principal, Aryans Institute of Nursing; Dr. Anurag Dhiman Principal, Aryans College of Education etc were also present on the occasion.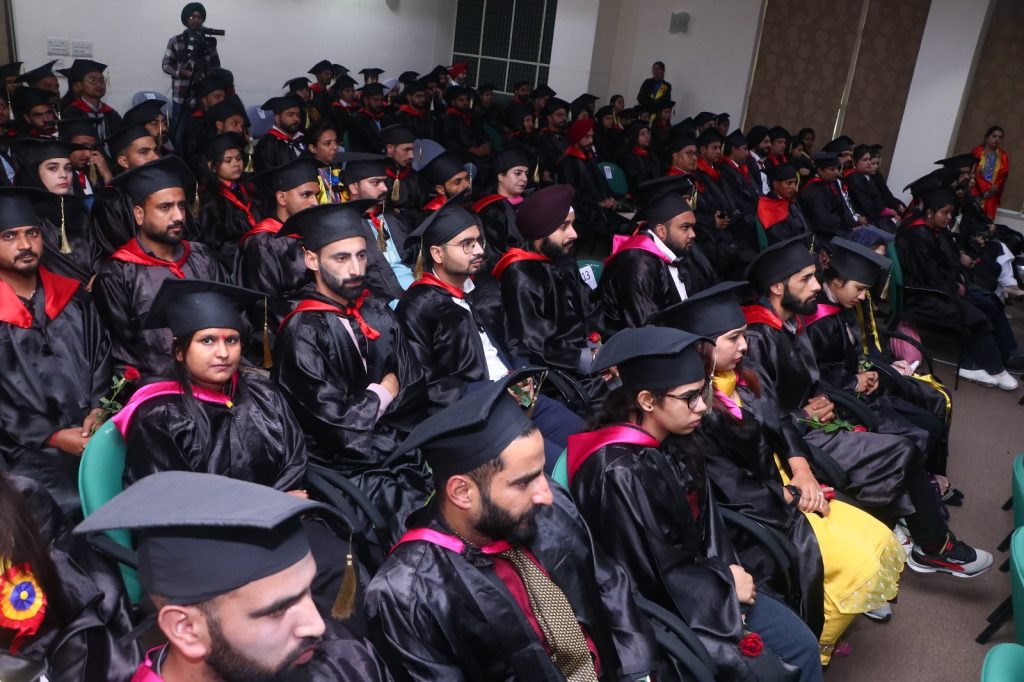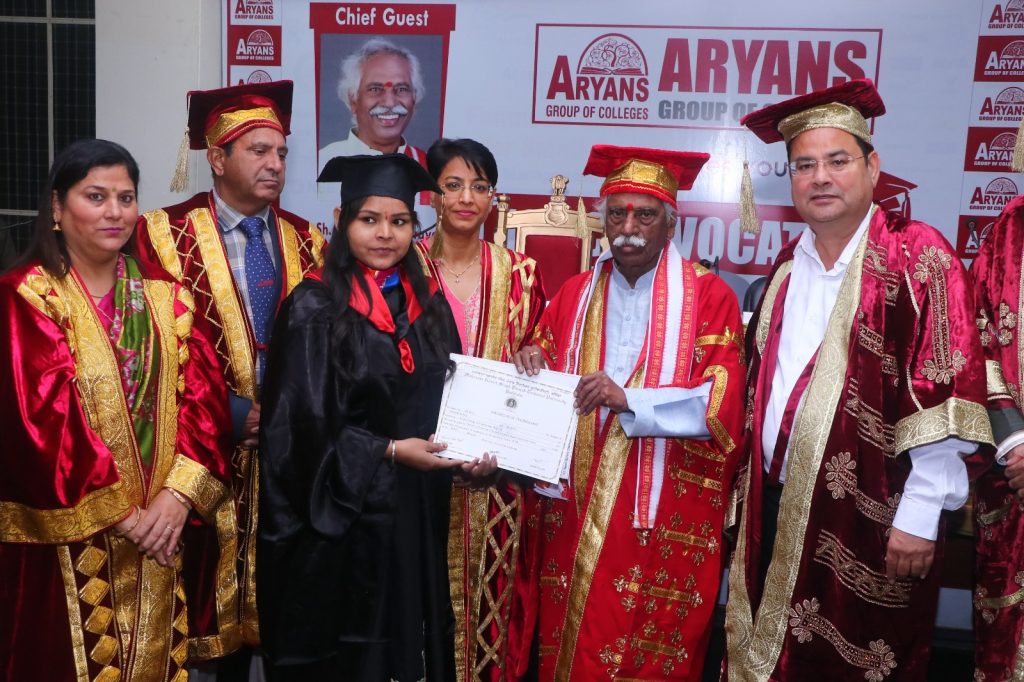 Read More