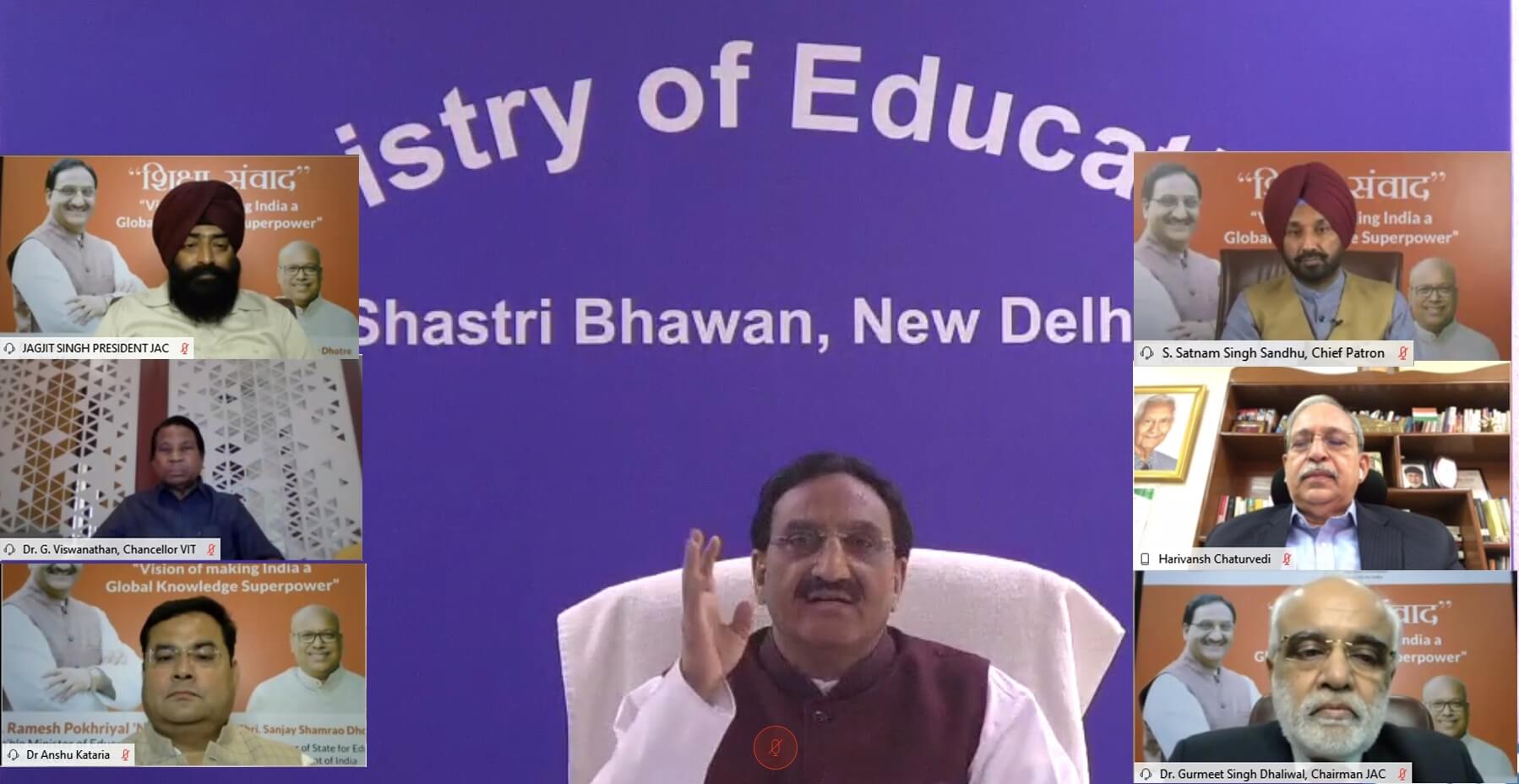 Students and Faculty Members of Aryans participated in Shiksha Samvaad
Mohali 28 August
Students and staff members of Aryans Group of Colleges, Rajpura, Near Chandigarh participated in the "Shiksha Samvaad" organized by Joint Association of Colleges (JAC) and Education Promotion Society for India (EPSI). Dr. Ramesh Pokhriyal 'Nishank', Hon'ble Minister of Education, Government of India, was the Chief Guest while Dr. Sanjay Shamrao Dhotre, Hon'ble State Education Minister, was guest of honor. About 10,000 students from schools, colleges and universities participated in this education dialogue.
Dr. Anshu kataria Chairman, Aryans Group of Colleges; President Punjab Unaided Colleges Association (PUCA) & Co-Chairman, JAC mediated the second technical session. In the first session Sardar Satnam Singh Sandhu; Sardar Jagjit Singh; Dr. Gurmeet Singh Dhaliwal; Mr. Ashok Mittal; Dr. H. Chaturvedi were present & in the second session Dr. Madhu Chitkara and Mr. Shankar Vanavarayar were present.
While addressing through a virtual session, Dr. Pokhriyal said, "New Education policy aims at improving the Gross Enrollment Rate (GER) in Higher Education and the Government of India has set a target of achieving 50% GER by 2035. To achieve this target, the Government of India has decided to add 3.5 crore new seats in Higher Education Institutions of India by 2035".
The minister further said that education is the foundation & backbone of a person, family, society & country. A person alienated from education & society goes on the path of destruction. This education policy has been prepared with the help of around 2.5 lacs consultations, in which suggestions have been received from vice chancellors of 1000 universities, professors from degree colleges, teachers, academics & intellectuals, he added.
For More Info.
98781-08888
---
Related Posts
---