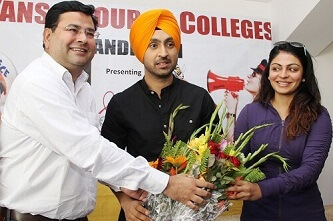 Chandigarh based Aryans Group of Colleges organized "Scholarship cum Sabhyacharak Mela" in Bathinda. Diljit Dosanjh, Neeru Bajwa and other starcast of Punjabi movie "Jatt & Juliet 2" were the main attraction of Sabhyacharak Mela. Dr Anshu Kataria, Chairman, Aryans Group presided over the event.
Punjabi Singer and Film Actor Diljit Dosanjh while addressing the Press Conference today organized by Aryans Group in Bathinda, said that he is playing the role of Fateh Singh in the movie who is a Punjab police officer while Neeru Bajwa is playing the role of Pooja who is a cop as well in Canada. Fateh Singh is a lovable kind of guy whereas Pooja is the typical Punjabi modern girl. The story takes turns when their paths cross on their way to Canada due to their different outlook on life.
It is to be mentioned that upcoming Punjabi Movie "Jatt and Juliet 2" is a comedy movie starring Diljit Dosanjh and Neeru Bajwa. This movie is the sequel to super hit movie "Jatt And Juliet". The movie has been directed by Anurag Singh and produced by Gunbir Singh Sidhu, Darshan Singh Grewal and Manmord Sidhu. The Story of the movie is written by Dheeraj Rattan. It will be released on 28th June under the banner of Speed Records, White Hill Production & Grewalz Cine Corp.
It is worth mentioning that Aryans Group has been awarded for "Excellence in Education" by Dr.A.P.J.Abdul Kalam, Former President; Sh. Parkash Singh Badal, Chief Minister of Punjab; Sh. Shivraj V Patil, the Governor of Punjab and Administrator Chandigarh; Dr. Kiran Bedi, First Women IPS Officer of India; S. Joginder Singh, Ex-Director, CBI etc. The Group has also been honoured for "Excellence in career building" by Dr. Shashi Tharoor, Minister of State for Human Resource Development, India.
Dr Anshu Kataria, Chairman, Aryans Group of Colleges while giving information about the event, said that Aryans Group organized Scholarship Mela in morning in which Scholarships were given to the students in various courses like B.Tech, M.Tech, MBA, BBA, BCA, BA, B.Com, Polytechnic Diploma
Media Coordinator
098781-08888
Read More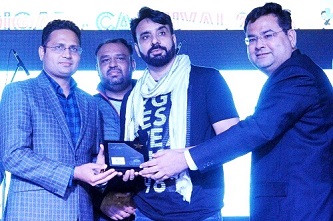 Over 1 lakh visited in 3 days event Chandigarh Carnival
Babbu Maan (Punjabi Singer) were honored by Aryans Group of Colleges, Chandigarh in 3 days Chandigarh Carnival which was organized by Chandigarh tourism& Aryans Group on 25-27th November.
Sh. Parimal Rai, IAS, Advisor was the Chief Guest while Mr. Jitender Yadav, IAS, Director Tourism and Dr. Anshu Kataria, Chairman, Aryans Group were the Guests of Honour on the occasion.
Aryans stall was the point of attraction wherein heavy rush was witnessed all 3 days to fill the free lucky draw for free Tablet and Laptop. The initiative of Aryans was inspired from the digital India mission of Prime Minister Sh. Narendra Modi.
Mr. Saurav S/o Devinder Kumar resident of Sec-20, Chd and Jagat Singh S/o Lachnan Singh and resident of Mauli Jagran won lucky Tabs each on first two days and Ms Rittu d/o Narender Kumar, resident of Ramdarbar, Chd won laptop in the lucky draw of third day.
Over 1 lakh people from all the North India visited the carnival in 3 days.Amusement Park for Children providing swings and rides, Laughter Show, Magic Show Food Courts, cultural events were the major attraction in the Carnival.
Media Coordinator
098781-08888
Read More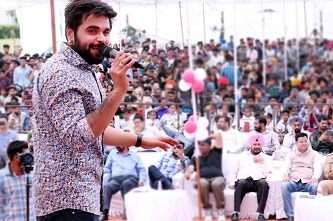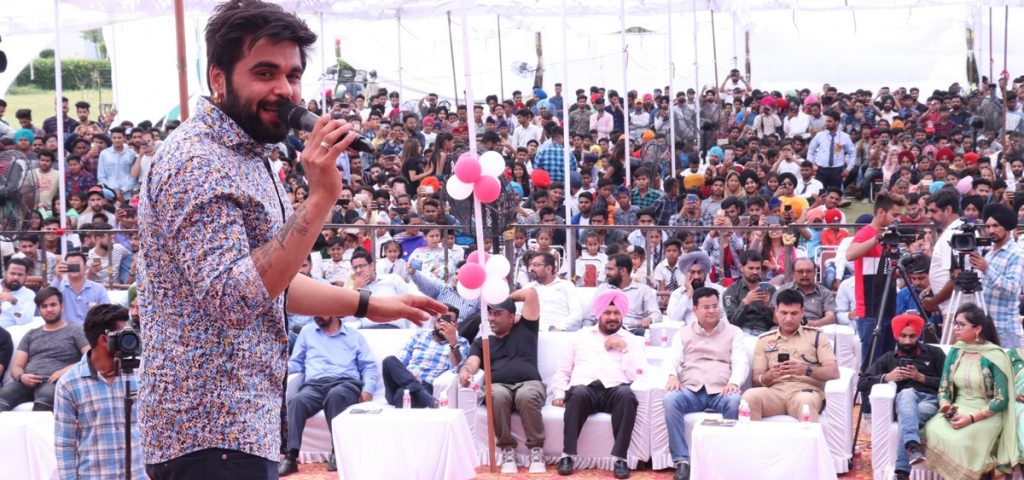 Minister Dharamsot also graced the occasion
Mohali 10th April 2019
A 2 Days 12th Annual cultural Extravaganza "Roshaan" of Aryans Group of Colleges, Rajpura, Near Chandigarh today concluded on the high note at Aryans Campus. The function commenced with the Lamp Lighting ceremony by Aryans Group founders Prof. Roshan Lal Kataria and Mrs. Rajni Kataria. Chairman, Aryans Group, Dr. Anshu Kataria also presided over the function. Social welfare Minister, S. Sadhu Singh Dharamsot also graced the occasion.
Students of Aryans College of Engineering, Aryans College of Law, Aryans Institute of Management & Technology, Aryans Institute of Nursing, Aryans College of Education, Aryans Business School, Aryans Degree College, Aryans College of Pharmacy etc participated in various colorful cultural items and mesmerized the whole crowd with their performances representing the states including Punjab, Haryana, Himachal Pradesh, Bihar, Rajasthan, Jammu Kashmir, North East etc.
Renowned Punjabi Singer Ninja enthralled the audience with his hit numbers including Ajj Vi Chaunni Aah, Teri Aadat, Hawa De Warke, Tutda Hi Jaave, Jinne Saah etc and made the audience tap on their feet. Besides this Kashmiri Artist Ishfaq Kawa along with his band 'Rooh' performed Kashmiri song "Balyare", Gazals, bollywood song "Dil Diyan Gallan", Bihari artist Vikash Jha performed on Bhojpuri songs "Gulabi Tauhar Gaal Goriyaa", "Chunmuniya Tauhar Chunri Kmaal Laage re" and Awaaz Punjab di finalist Kiran Kaur also enthralled the audience on Bollywood songs.
Dr. Anshu Kataria while congratulating all said that Aryans Group has students from all across the Country who are studying in various courses & sets an example of "Unity in Diversity". He added that besides studies, extra co-curricular activities are equally important. They help in the overall development of the students.
The cultural items started with the Saraswati Vandana performed by Deeksha, Rupali & Group; Chanda, sarabjeet & Group performed Haryanvi Dance; Amit, Sanjeet, Aizaz & group performed Mime; Gagan, Manpreet, Prabha performed Mastani Dance while Rahul and group performed Assamese song; Ajay, Shefali, Chunni Lal performed Himachali Naati.
Tamsha, Abhilasha, Seema, Simran & group performed Bhangra; Rishika, Tajinder & group performed Giddha. Abhilasha, Seema, & group performed Bollywood Dance. Abinash, Manpreet, Harry, Veer etc performed Bhangra. Kunal, Nishant etc performed Funny dance while the skit was performed by Ankush, Ajay & group.
Dr. (Mrs.) Parveen Kataria, Director General, Aryans Group; Prof. B.S Sidhu, Director, Aryans Group; Dr. Raman Rani Gupta, Principal, Aryans Group; Mr. Steven Jawinda, Registrar; Dr. Sushil Kumar, Director, Aryans College of Engineering etc were also present on the occasion.
Media Coordinator
09878108888
Read More