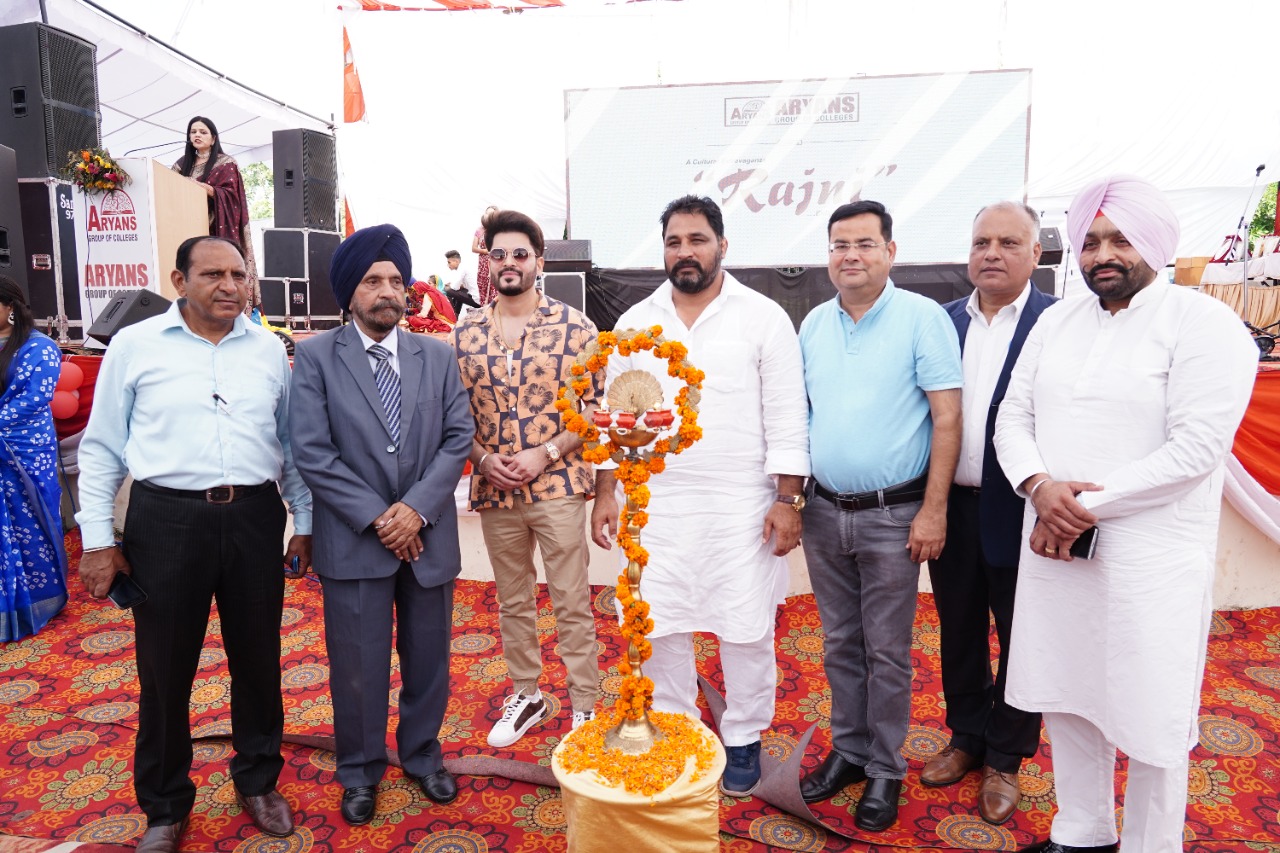 Mohali 16 October


MLA, Ghanaur, Sh. Gurlal Singh graced the 2nd day of Youth fest of IKG-PTU, Jalandhar at Aryans Group of Colleges, Rajpura, Near Chandigarh, Today. Sh. Sumeer Sharma, Assistant Director, Youth Affairs, IKG-PTU was present on Occasion Dr. Anshu Kataria, Chairman,Aryans Group presided over the function.
Renowned Punjabi Singer Sangram Hanjra, Jashan, Gursewak Likhari enthralled the audience on the hit tracks including "Sawaal", "Sawaal 2", "Aladdin Da Chirag", "Basant Panchami", "Goli Te Panjeb", "Layi vi na Gayi", "Allah Ve", "Nimma Nimma", "Tadke Supna Aya", "Maan na Kari" etc. while on the other hand Kashmiri Artist again gave mind blowing dances performance on Bollywood & Punjabi songs.
The fest was inaugurated yesterday by Finance Minister, Punjab, S. Harpal Singh Cheema was the Chief Guest while MLA Rajpura, Smt. Neena Mittal was the Guest of Honour during the inauguration ceremony.
Aryans College of Engineering, Rajpura, Aryans Institute of Management & Technology; Baba Banda Singh Bahadur Engineering College, Fatehgarh Sahib; Swami Vivekanand Institute of Engineering & Technology, Banur; ISF College of Pharmacy, Moga; Gurdasi Devi Institute of Technology, Budhlada etc. participated on 2nd day in various competitions including Cultural and Non Cultural activities including Mimicry, Mime, Skit, One Act Play, Bhangra, Indian Group Dance, Classical Ins.(Pur.), Classical Ins.(Non Pur.), Classical Vocal, Light Indian Vocal Solo, Folk Song, Elocution, Debate, Poem, Recitation, Rangoli, Poster Making, Photography, Mehandi etc.
S. Gurlal Singh while congratulating Aryans Team said that such festivals prove helpful in the development of language, literature & culture and give a hilarious boost to student activities. The event provided a platform for the students to showcase their talent and share their knowledge in various cultural, technical and educational fields. He praised the efforts made by Aryans in past also for emphasizing on Entertainment along with Education.
He added that Aryans Group of Colleges is the pride of the region & since the last 15 years the group is really working hard under the leadership of Dr. Kataria. Such festivals build self-esteem and confidence of the youth. Their creativity is developed and honed in these competitions, He added.
Dr. Anshu Kataria while speaking on the occasion the youth festival is a unique platform for young talent and a celebration of youthful creativity and innovation. He further said that Aryans would do their best to make the fest successful. He added that youth should be involved more in co-curricular activities so that they can be involved in the mainstream of the society and can help in bringing revolutionary change in the society.
S. Surinder Singh, Coordinator, Youth Affairs, IKG-PTU; Prof. Roshan Lal Kataria, Mrs Rajni Kataria (Founders), Dr. Parveen Kataria, Director General; Prof. BS Sidhu, Director, Aryans Group; Dr. JK Saini, Director, Aryans College of Engineering; Dr. Garima Thakur, Deputy Director, Aryans Group Prof. Dr. Krishan Singla,  Mrs Kusum Sood, Dean, Academics; Mrs Manpreet Maan, Dean Scholarship Dept; Mrs. Nidhi Chopra, Principal, Aryans Institute of Nursing; Mr. Manu Kataria, Chief Finance Officer; Mr. Navdeep Girdhar, Liaison Officer etc were also present on the occasion.
Read More