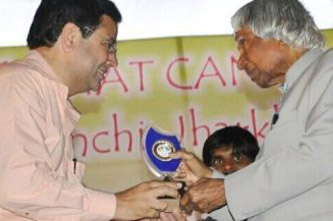 Chandigarh based , Aryans Group of Colleges has achieved a new milestone in short span of 5years.
After the Hon'ble Chief Minister of Punjab Sh. Parkash Singh Badal & H.E. the Governor of Punjab and Administrator Chandigarh, Sh. Shivraj V Patil awarded Aryans Group of Colleges for Excellence in Education .Now, His Excellency Dr.A.P.J.Abdul Kalam, former President has also awarded Aryans Group of Colleges (AGC) for "Excellence in Education".
This award was given to Dr. Anshu Kataria, Chairman, Aryans Group of Colleges in the launching ceremony of "What can I give Mission" Jharkhand Chapter in Ranchi. In the brief interaction with Dr.Kataria, Dr. Kalam 'the missile man' assured that he would soon visit Chandigarh to launch the Chandigarh chapter of "What can I give Mission".
It is to be mentioned that Aryans group was established in year 2007 with management college & now runs MBA, BBA, BCA, B.Ed, Engineering College& Junior Science College (+1 & +2). The College is going to start M.Tech, Polytechnic, GNM & ANM courses this year to cater to the diverse needs of students.
It is to be mentioned that Earlier also, Dr. Kiran Bedi, 1st Woman IPS of India, has awarded ABS as the Best upcoming B-School of North India. Apart from this, Dr.Anshu Kataria, Chairman, Aryans Group got Young Entrepreneurship award by Thailand Labor Minister. Many reputed personalities like Dr. Kiran Bedi, S.Joginder Singh (Ex Director, CBI) etc. have visited Aryans campus several times.
To expose the students to international education standards, employment facilities and opportunities of education abroad Aryans Group has entered into number of tie-ups / collaborations with foreign institutions such as Outline System (USA); LSME (London); AUPP (Australia) & Fontys University (Netherland).
Earlier also Aryans Business School (ABS) has been ranked 48th in India by Dainik Bhaskar. ABS has recently been awarded the best upcoming B-School of North India by the renowned Magazine "Business and Management Chronicle" and Dr. Kiran Bedi, 1st Woman IPS of India, has also awarded ABS as the best upcoming B-School of North India. ABS has also been ranked 71st by MBA Universe.com
It is worth mentioning that Aryans Group is the first Group of the region being promoted by renowned educationists as trustees. The group is growing under the leadership of young & dynamic entrepreneur Dr.Anshu Kataria, alumnus of University Business School (UBS), Punjab University, Chandigarh, supported by Prof.D.C.Kataria (UGC-NET Expert), Mrs.Rajni Kataria (Teacher), Dr. (Mrs.)Parveen Kataria (Gold Medalist, UBS).
Read More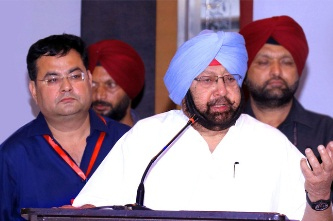 Chief Minister of Punjab, Captain Amarinder Singh, today launched World's Largest Anti Drug Campaign in a function organized by Joint Action Committee (JAC) today at Hotel Taj, Sec-17, Chandigarh. Sh. Brahm Mohindra, Health & Medical Education Minister; S. Sadhu Singh Dharamsot, Welfare Minister for SCs and BCs ; Sh Rana Sodhi, Sports and Youth Affairs Minister; Smt. Asha Kumari, Congress Incharge etc were the Guests of Honour on the occasion. Sh. Ashwani Sekhari, Chairman, JAC presided over the function while Dr. Anshu Kataria, Spokesman JAC and S. Jagjit Singh, President, B.Ed Federation were the moderators of the event.
Captain Amarinder Singh appreciated the Joint initiative of JAC towards this campaign. Captain said that we are determined to eradicate the evil of drugs from the roots of Punjab and to meet this challenge the millions of youth of Punjab is the supreme power if can be used in right direction.
Captain further said that with this venture of JAC, this campaign would reach to every youth of Punjab under the leadership of Ashwani Sekhari. He also handed over the Oath letters to all the Presidents of 13 Associations and appealed to make their campuses Drug Free.
Rana Sodhi while speaking said that sports Dept of Punjab is also working in this direction. Soon policies would be made for sportsmen, coaches also against Drug use. He assured full support to JAC for this campaign. He appealed the Chairmen to involve youth of Colleges into the sports activities so that their minds can be ignited with positive thoughts.
Ashwani Sekhri told that after the launching the campaign would be taken to each Tehsils/ Mandals/Blocks/Taluqs, Municipalities, Nagar Panchayats, Village Panchayats etc through 5 lakh Youth of Punjab.
Spokesman JAC, Dr. Anshu Kataria said that in next 2 months this campaign would be taken to 5 lakh youth of 1600 Unaided Colleges situated in 22 Districts of Punjab wherein students would take oath against the drugs. JAC would attempt to make new World record to fight against the drugs.
Dr. J.S Dhaliwal, President, Punjab Unaided Technical Institutions Association; Dr. Anshu Kataria, President, PUCA; Sh. Jagjit Singh, President, B.Ed Federation; Mr. Charanjit Walia, President, Nursing Colleges Association; Sh. Anil Chopra, Confederation of Punjab Unaided Institutions; S. Gurmeet Singh Dhaliwal, Academic Advisory Forum (AAF); S. Nirmal Singh, ETT Federation; Mr. Jasnik Singh, B.Ed. Association, PU; S. Sukhmander Singh Chatha, Punjab Unaided Degree Colleges Association (PUDCA); Mr. Shimanshu Gupta, ITI Association; S Rajinder Dhanoa, Polytechnic Association; Sh. Vipin Sharma, Confederation of Unaided Colleges Association; Dr. Satwinder Sandhu, B.Ed Association GNDU Colleges;S. Inderjit Singh Zira etc were also present.
All the Chairmen and JAC members took oath to make their campuses drugs free and educate their students about the ill effects and consequences of drugs in their Campuses
Read More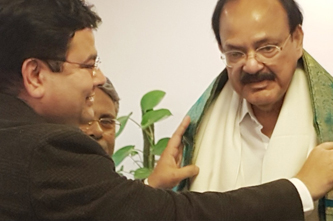 Media Coordinator
09878108888
Read More