Aryans College of Engineering, Chandigarh's Student Rumaisa was honoured by CM, Punjab S. Prakash Singh Badal for her Innovation of "Aryans Android App" to be in touch with College. This honour was given by CM in "Technical Education Summit" in the presence of more than 2000 Educationists and around 50,000 Students of Punjab. Sh. Madan Mohan Mittal, Technical Education Minister, Punjab; VC, PTU Dr. Rajneesh Arora and Dr. Anshu Kataria, Chairman, Aryans Group of Colleges were also present in the event.
Aryans Kashmiri Student Rumaisa with her 3 friends – Sadiya, Yusra and Zeenat recently developed "Aryans Android App" to solve the problem of ban on SMS in their state J&K. The girls developed this App with the help of their faculty members to make Campus Paper Free.
After being honoured by CM, Rumaisa said that she is feeling very happy getting so much of support and appreciation. She further said that she came from Kashmir to Punjab to get Education. With the support of College Management, teachers and her parents, she could take this initiative. She requested every Kashmiri girl to move forward and let her parents, College and State feel proud of her.
While doling out the details about the app Dr. Anshu Kataria said that the Android Application with the name of 'Aryans' is having two Logins. The logins are intended for students and staff. The outsiders need not to login. They can simply have a view of the details of the College. Dr. Kataria added that the language of the application is Core Java and the software used in Eclipse. The Application Size is 2.2 MB and the Current Version is 1.0. It requires Android 2.3 and up.
In the Summit, apart from Rumaisa, few other Students were also honoured for their achievements in different fields. They were Jhallu Gauren from Aryabhatta Group of Institute was awarded for winning University Gold Medal by securing 88% in B.tech. Navneet Singh from Desh Bhagat Engineering College was awarded for winning Gold Medal in Badminton and Athletics at University Level. Khushboo from PTU University was awarded for securing a high packaged job of 9 lakh per annum in the placement routine. Tushar Mahinder Ratta was awarded for acquiring C and B certificate in NCC Cadet. Gagandeep Singh from Chandigarh College of Pharmacy, Landran was awarded for his achievement in acquiring President Scout Award from India Scouts and Guides.
Read More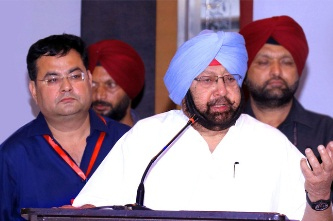 Chief Minister of Punjab, Captain Amarinder Singh, today launched World's Largest Anti Drug Campaign in a function organized by Joint Action Committee (JAC) today at Hotel Taj, Sec-17, Chandigarh. Sh. Brahm Mohindra, Health & Medical Education Minister; S. Sadhu Singh Dharamsot, Welfare Minister for SCs and BCs ; Sh Rana Sodhi, Sports and Youth Affairs Minister; Smt. Asha Kumari, Congress Incharge etc were the Guests of Honour on the occasion. Sh. Ashwani Sekhari, Chairman, JAC presided over the function while Dr. Anshu Kataria, Spokesman JAC and S. Jagjit Singh, President, B.Ed Federation were the moderators of the event.
Captain Amarinder Singh appreciated the Joint initiative of JAC towards this campaign. Captain said that we are determined to eradicate the evil of drugs from the roots of Punjab and to meet this challenge the millions of youth of Punjab is the supreme power if can be used in right direction.
Captain further said that with this venture of JAC, this campaign would reach to every youth of Punjab under the leadership of Ashwani Sekhari. He also handed over the Oath letters to all the Presidents of 13 Associations and appealed to make their campuses Drug Free.
Rana Sodhi while speaking said that sports Dept of Punjab is also working in this direction. Soon policies would be made for sportsmen, coaches also against Drug use. He assured full support to JAC for this campaign. He appealed the Chairmen to involve youth of Colleges into the sports activities so that their minds can be ignited with positive thoughts.
Ashwani Sekhri told that after the launching the campaign would be taken to each Tehsils/ Mandals/Blocks/Taluqs, Municipalities, Nagar Panchayats, Village Panchayats etc through 5 lakh Youth of Punjab.
Spokesman JAC, Dr. Anshu Kataria said that in next 2 months this campaign would be taken to 5 lakh youth of 1600 Unaided Colleges situated in 22 Districts of Punjab wherein students would take oath against the drugs. JAC would attempt to make new World record to fight against the drugs.
Dr. J.S Dhaliwal, President, Punjab Unaided Technical Institutions Association; Dr. Anshu Kataria, President, PUCA; Sh. Jagjit Singh, President, B.Ed Federation; Mr. Charanjit Walia, President, Nursing Colleges Association; Sh. Anil Chopra, Confederation of Punjab Unaided Institutions; S. Gurmeet Singh Dhaliwal, Academic Advisory Forum (AAF); S. Nirmal Singh, ETT Federation; Mr. Jasnik Singh, B.Ed. Association, PU; S. Sukhmander Singh Chatha, Punjab Unaided Degree Colleges Association (PUDCA); Mr. Shimanshu Gupta, ITI Association; S Rajinder Dhanoa, Polytechnic Association; Sh. Vipin Sharma, Confederation of Unaided Colleges Association; Dr. Satwinder Sandhu, B.Ed Association GNDU Colleges;S. Inderjit Singh Zira etc were also present.
All the Chairmen and JAC members took oath to make their campuses drugs free and educate their students about the ill effects and consequences of drugs in their Campuses
Read More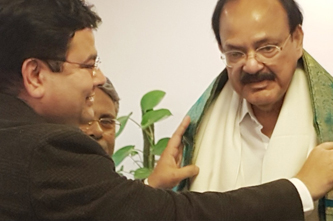 Media Coordinator
09878108888
Read More