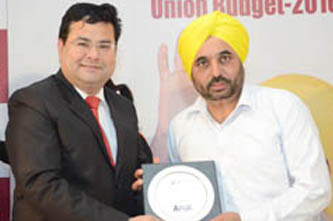 Aryans congratulates Bhagwant Mann on his massive win
Aryans and Bhagwant Mann have 15 years old bonding
Aryans Group of Colleges, Rajpura near Chandigarh congratulated Bhagwant Mann on his massive victory in the elections. Dr. Anshu Kataria, Chairman, Aryans Group of Colleges said that Bhagwant Mann had talked about the improvement of education and health from the very beginning and hopefully the upcoming government of Mann will bring new dawn in the field of education.
It is worth mentioning that Aryans Group and Bhagwant Mann have a 15-year old bonding. Mann has been a part of various programs of Aryans for the last 15 years, no matter what position he held.
It is also to be mentioned here that last 3-4 years back when Mann visited Aryans campus, he expressed happiness while addressing students and said that when he came to Aryans campus for the first time in 2007, Aryans was a small campus and today it has transformed into very big campus.
---
Related Posts
---