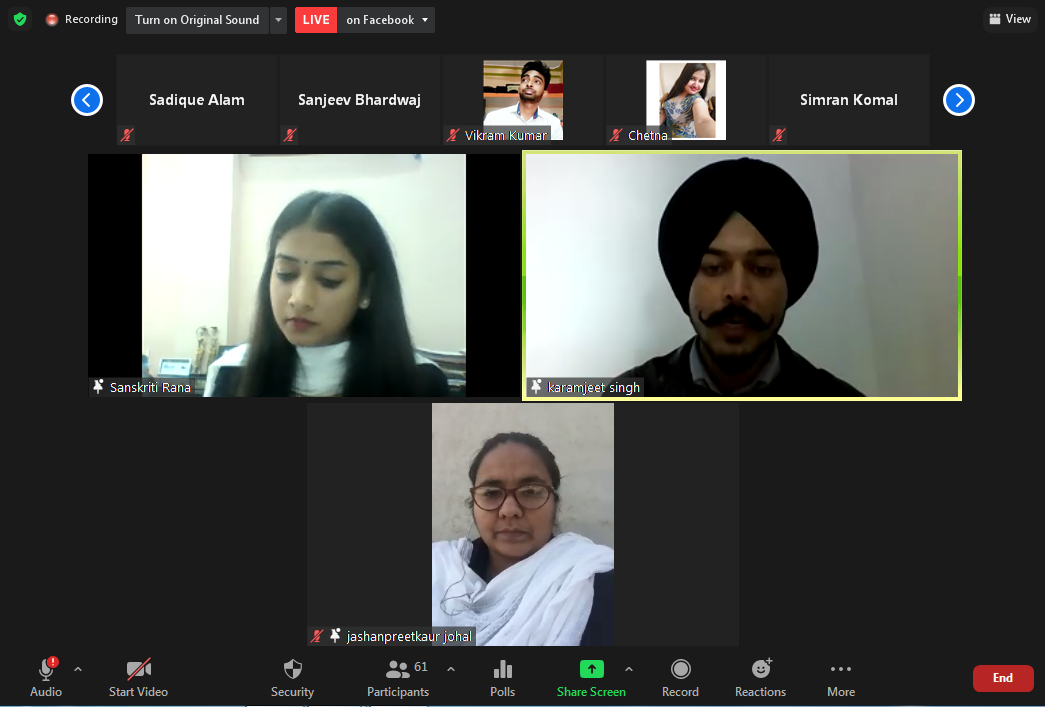 National Constitution Day Celebrated at Aryans
Aryans College of Law organized online Speech competition on this occasion
Mohali 26 November
To mark importance of National Constitution day & cultivate deeper understanding of legal profession Aryans College of Law, Rajpura, Near Chandigarh organized several activities through virtual mode. Aryans students of Law, Engineering, Management, Nursing, Pharmacy, B.Ed, Agriculture etc participated. Dr. Anshu Kataria, Chairman, Aryans Group praised all the students for participating in the competitions whole heartedly and motivated them to partake more in future days.
On this occasion, Gagan Pradeep S. Bal Advocate interacted with students & faculty members of Aryans College of law. He said National Constitution Day also known as 'Samvidhan Divas' & significance lies in the fact that on this day in year 1949, the drafting of the Constitution by the Constituent Assembly which started functioning on 09 December 1946 under the Chairmanship of Dr BR Ambedkar was completed after a span of 2 years, 11 months and 17 days, he said.
While addressing he said that The Constitution of India is the longest written constitution of any sovereign country in the world. This is to mention that this day aims to create awareness of Fundamental Duties as enshrined in the Constitution. Every citizen in India today knows for sure that the Constitution is supreme and the Fundamental Rights guaranteed under it indeed are sacrosanct. The students should realize that it was equally important to perform the eleven fundamental duties as enshrined in the constitution while taking pride in cherishing the fundamental rights.
A virtual Speech competition was organized on this occasion. Muskan, Delisha, Adil, Pinki, Chirag, Ujjwal, Ranjan from Law & other department spoke on various topics. Dr. Garima Thakur, Dr. Rajni Attari, Ms Jashan, Mr Karam Jeet Singh, Ms Sanskriti other faculty members were present.
Media Coordinator
98781-08888
---
Related Posts
---