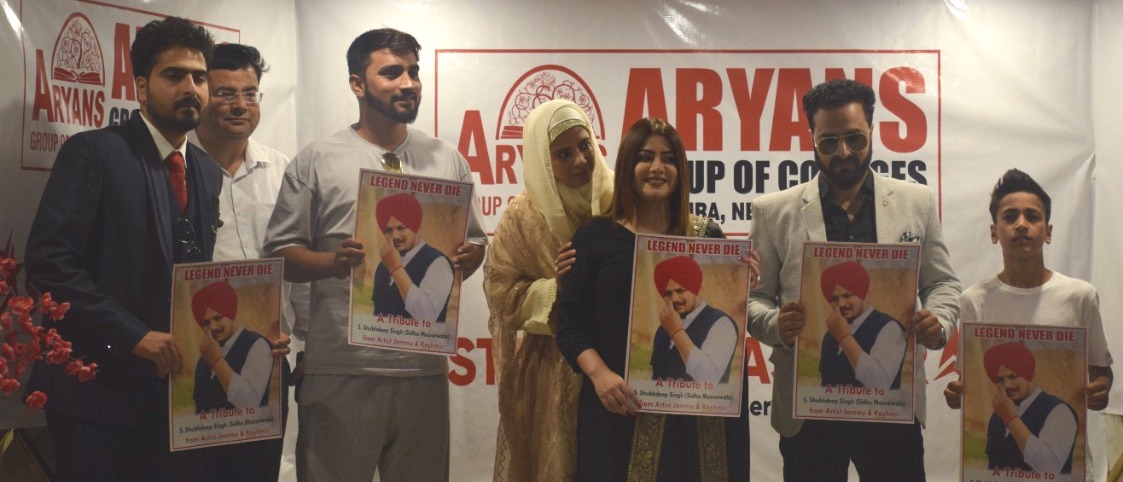 Kashmiri artists pay tribute to Punjabi singer Subhdeep Singh Sidhu Moosewala in Aryans Stars of Kashmir Award Show
In an event Stars of Kashmir around 40 top Kashmiri Artists paid tribute to Punjabi Singer Subhdeep Singh Sidhu Moosewala in Srinagar, today.
Srinagar June 22

The event Stars of Kashmir organised by Aryans Group of Colleges, Rajpura, Near Chandigarh started with a tribute to Late Punjabi Singer Subhdeep Singh Sidhu Moosewala where the Kashmiri singers mentioned "Legends Never Die".
Kashmiri singers mentioned that Sidhu Moosewala gained name & fame across globe in such a young age & will always be remembered. It is very sad that he left at such a young age. He was not only famous in Punjab, but he also had a fan following across the world, they mentioned.
In this event, around 40 stars from Kashmir including Bashir Kotur, Actor; Gulzar Fighter, Actor; Adnan Shah, Influencer ;Popping Sam, Dancer; Bilal bhagat, Cinematographer; Anees Bhat, Photographer; MJ Star, Dancer; Yasir, Musician; Asif, Musician; Behzad Mallah, Stand Up; Jallad, Youtuber; Tariq Ghani, Influencer; Waqar Khan, Singer; Atif Khan, Social Activist; Shazia Bhat, Fashion Blogger; Kral Koor, Potter; Musaib Bhat, Youtuber; RajaAdam, Magician; Sethi Express, Youtuber; Kashmiri Kalkharabs, Youtuber; Idrees Mir, Youtuber; Rapper Ashu, Rap; Rap Kid Arfat, Rap; Umar Nazir, Singer; Babbar Mudasir, Singer; Ishfaq kawa, Musician; Mehmeet Syed, Singer; Yawar Abdal, Singer; Mohammad Muneem( Alif) etc. were honoured by Aryans Group.
The event was graced by Dr. Shahid Iqbal Choudhary, IAS, Tribal Affairs Dept., JK as Chief Guest while Mehmood Ahmad Shah, Director Industries and Commerce Kashmir; M Shafeeq Chek, Director Social welfare Department Kashmir & Mohd. Haroun Malik, Special Secretary, Tribal Affairs Dept. JK as Guest of Honour. Dr. Anshu Kataria, Chairman, Aryans Group presided over the event. The theme of event was Awarding the deserving.
---
Related Posts
---