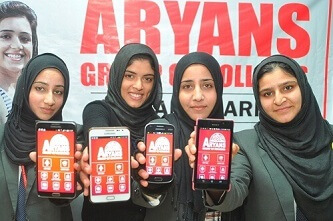 The 4 Kashmir's Muslim girls of Aryans Colleges of Engineering, Chandigarh developed "Aryans Android App". The App would help Aryans to become Paper-free campus.
Aryans Kashmir's Muslim girls – Rumaisa, Zeenat, Sadiya and Yusra all B.Tech students, under the leadership of Ms Manpreet Mann, HOD (Projects), Aryans Group have developed this App which can be downloaded from Google Playstore and can be installed in an Android phone. The students also took technical support for developing this application. This information was given by these students during a Press Conference held in Chandigarh Press Club, Chandigarh.
While congratulating the students for their achievement, Dr Anshu Kataria, Chairman, Aryans Group of Colleges, said that the students have done an excellent job. He added that to encourage the students even more, the college has decided to sanction an amount of Rs.1 Lakh to the students for any other Joint Project. Dr Kataria also declared to provide the next semester books to the girls who developed this application.
While doling out the details about the app, the students said that the Android Application with the name of 'Aryans' will be having two Logins. The logins will be intended for students and staff. The outsiders need not to login. They can simply have a view of the details of the College.
Notices intended for the students belonging to the college will be uploaded in Students Login. This has eliminated the need of notice boards in the college. All the official notices for the staff will be uploaded in the Staff Login. The outsiders will be able to see all the necessary information about Aryans Group of Colleges and the updates about the events happening at the college.
The students added that the language of the application is Core Java and the software used in Eclipse. The Application Size is 2.2 MB and the Current Version is 1.0. It requires Android 2.3 and up.
While interacting with media, the girls said that they could manage to achieve this only with the support of their management and teachers. They further said that they feel like home at their college campus.
Read More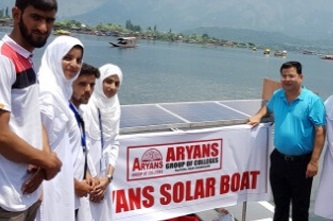 12 students of Aryans College of Engineering, Rajpura, Near Chandigarh have developed a Solar Boat.
Aryans JK Students of B.Tech 1st Year namely Danish shafi, Bilal Ah shah, Umer Farooq, Muskaan Qadir along with other team members have developed two seater boat with the load carrying capacity of 150 Kg. The boat is made up of Deodhar frame and plywood body with front steering system.
Dr. Anshu Kataria, Chairman, Aryans Group appreciated the students and Faculty members who were working on this project since last Month. Kataria said that the idea behind this project is to minimize human fatigue and make effective usage of renewable energy resources. "Over 1800 Students of Jammu & Kashmir are studying in Aryans who are excelling in all fields" Kataria added.
The boat is 7 feet 2 inch long, 3 feet 6 inch wide and 1 feet 4 inch deep. The battery of 12 volts x 4 Nos & Solar Panel of 75watts x 4 Nos has been installed on the top of the boat. The boat is driven by a DC Motor of 48 volts, 900 watts.
Prof. B.S Sidhu, Director, Aryans Group appreciated the students & staff & said that Aryans always motivate its students for the innovations and work on live projects which could bring a revolution in them and the society. He said that Kashmiri students possess the instinct to work if guided and supported in right direction.
Kataria further added that Aryans has already been selected by the Ministry of New and Renewable Energy for the Green Campus. Students and Staff of Aryans have started working in this direction with this new innovation.
Mr. Anil, Head, Aryans Incubation Centre said that the boat once charged can run upto 2 hours continuously and will be recharged simultaneously through solar energy. It can also be recharged through electricity.
It is to be mentioned that earlier to this, five major innovations done by Aryans students namely "Aryans Android App" in lieu to make campuses paper free, "Aryans Save Kashmir App" which was developed for the rescue operation at the time of floods in Kashmir, " Aryans Life Saving Glove" developed to provide timely assistance to the people prone to the risk of cardiac disease, "Aryans Safety Helmet" to provide timely first aid facility in case disaster happens at construction/ mining/ industrial sites, "Ramadan App" to solve the problem of Muslim community during Ramadhan for their fasting ; "eMunshi- Advocate Diary" Android App which buzz an alarm and remind the lawyers about the important Court Date and cases etc were launched and applauded at various Government Levels and gained interest of many people.
Aabid Ayoub (Sopore), Ghulam Mohi Ud Din(Khrew Pampore), Ishtiyaq(Khrew Pampore), Mehvish Hassan (Ganderbal), Afla Younis (Kokernag Anantnag), Rabia Aijaz(Anantnag), Gowsia Qadir(Shopian), Akshay Kumar (Udhampur Jammu) were also involved in the project.
Media Coordinator
09878108888
Read More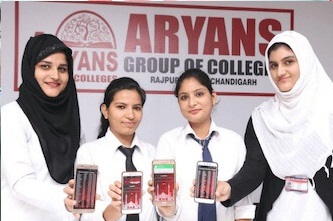 The app would help Muslim community for time management during their fasting month Ramadhan
New Innovative Project:
Once again the JK students of Aryans Group of Colleges, Chandigarh have come up with a new Innovative Idea in the interest of Muslim community of JK..
Ramadhan App developed by Aryans JK students
Developed by a group of four JK girls of Computer science branch of Aryans College of Engineering, an android based app of 3.0 version christened as "Ramadhan App developed by Aryans Group of Colleges, Chandigarh" would now help to solve the problem of Muslim community during Ramadhan for their fasting. The app featured an automatic alarm which would buzz in the morning at Sehar time to awake them and in evening at the Iftar time to remind them for their meals. The app is available on Google Play Store.
Message of Brotherhood
B. Tech students namely Mehwish Rashid & Bisma Parveen who hail from Srinagar while Pooja Safaya and Mansi Salaria who hail from Jammu have set a true example of Religious Beliefs, universal brotherhood and respect for the religion of each other by developing this app which would help the entire community for time Management.
Innovations-Basis of Aryans Education
Dr. Anshu Kataria, Chairman, Aryans Group told press that Aryans has always motivated its students for the innovations and work on live projects which could bring a revolution in them and the society. He said that Kashmiri students possess the instinct to work in this direction and hence they have always been supported for their ideas.
App to help in time management
Mehwish Rashid & Bisma Parveen while interacting with the media said, "As the computer science students we have tried to implement our knowledge to solve the problem of those Muslim people who find tough to match the variations in sehar time in the auspicious month of Ramadan due to various physical or biological factors" Pooja Safaya and Mansi Salaria while speaking said that it was tough to work on such a big project for a large community in a short time period but we were fully guided, motivated and supported financially by the College Management without the help of which this project could be a dream for us. "We have developed this app in 72 hours. Though it's a small initiative from our side but we aim to add Azaan prayer along with the alarm. In the beginning the app would work according to location of JK but in next few days it will work according to the location of entire Globe" students added.
Media Coordinator
098781-08888
Read More