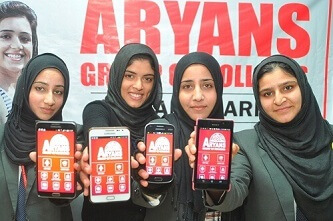 4 Kashmir's Muslim girls of Aryans Group develops "Aryans Android App" to make Campus Paper-Free
The 4 Kashmir's Muslim girls of Aryans Colleges of Engineering, Chandigarh developed "Aryans Android App". The App would help Aryans to become Paper-free campus.
Aryans Kashmir's Muslim girls – Rumaisa, Zeenat, Sadiya and Yusra all B.Tech students, under the leadership of Ms Manpreet Mann, HOD (Projects), Aryans Group have developed this App which can be downloaded from Google Playstore and can be installed in an Android phone. The students also took technical support for developing this application. This information was given by these students during a Press Conference held in Chandigarh Press Club, Chandigarh.
While congratulating the students for their achievement, Dr Anshu Kataria, Chairman, Aryans Group of Colleges, said that the students have done an excellent job. He added that to encourage the students even more, the college has decided to sanction an amount of Rs.1 Lakh to the students for any other Joint Project. Dr Kataria also declared to provide the next semester books to the girls who developed this application.
While doling out the details about the app, the students said that the Android Application with the name of 'Aryans' will be having two Logins. The logins will be intended for students and staff. The outsiders need not to login. They can simply have a view of the details of the College.
Notices intended for the students belonging to the college will be uploaded in Students Login. This has eliminated the need of notice boards in the college. All the official notices for the staff will be uploaded in the Staff Login. The outsiders will be able to see all the necessary information about Aryans Group of Colleges and the updates about the events happening at the college.
The students added that the language of the application is Core Java and the software used in Eclipse. The Application Size is 2.2 MB and the Current Version is 1.0. It requires Android 2.3 and up.
While interacting with media, the girls said that they could manage to achieve this only with the support of their management and teachers. They further said that they feel like home at their college campus.
---
Related Posts
---