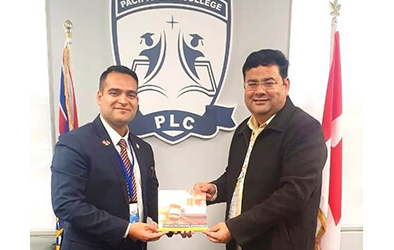 Canadian Pacific Link College Signed MoU with Aryans Group, Chandigarh
Mohali 23rd October
Canadian Pacific Link College (PLC), Surrey, British Columbia, Canada has joined hands with Chandigarh based Aryans Group of Colleges.
A Memorandum of Understanding (MoU) was signed by Mr. Tarun Khullar, Executive Director Pacific Link College and Dr. Anshu Kataria, Chairman, Aryans Group of Colleges at Surrey, British Columbia, Canada. This MoU is an important development for Aryans Engineering, Management, Arts etc.
Mr. Tarun Khullar while speaking on the occasion said that the Canadian Universities and Colleges keep on updating their course curriculum on a regular basis according to the needs of the industry. He further added that this MoU would help the students of Aryans to update themselves with the rapid growth in the technology.
Dr. Anshu Kataria said that PLC is one of the renowned colleges of British Columbia, Canada and this collaboration will help Aryans students to get International educational exposure. He added that this type of collaborations help to organize student exchange programs that are beneficial to both the students as well as colleges.
It is to be mentioned that Pacific Link College is located in Metro Vancouver, surrounded by all its modern conveniences. The campus encompasses a vibrant community of cultural clubs and language learning resources, allowing students to learn English in a multicultural environment.
Media Coordinator
098781-08888
---
Related Posts
---