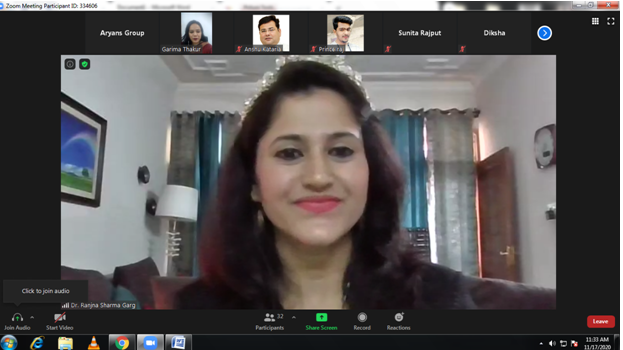 Beauty Queen, North India Dr. Ranjana Sharma interacts with Aryans Students
Mohali 21st November
In order to develop overall personality & winning attitude among students, Aryans Group of Colleges, Rajpura, Near Chandigarh organized a Virtual workshop on "personality development & winning Attitude". Dr. Ranjana Sharma Garg, Mrs. North India Queen 2019, A Model, an Environmentalist, social worker, an anchor and Professor by profession interacted with the students of Engineering, Law, Management, Nursing, Pharmacy, B.Ed, Agriculture etc of Aryans. Dr. Anshu Kataria, Chairman, Aryans Group presided over the webinar & congratulated the speaker on her achievements.
Ranjana while interacting said that one of the most powerful factors to success in your career and your life is the attitude and mindset you choose. We often sabotage our own happiness and success through negative self-talk, self-doubt and poor habits, she added.
She explained that it's much easier to develop a great attitude when you're doing something you love, so give yourself a leg up by focusing on the things you love. Being realistic never changed anything. Be grateful, Believe yourself, Learn & Set goals for yourself that is higher than you can imagine.
While answering the questions of students she said Success in life mainly depends upon two factors – positive attitude and soft skills. Therefore give more emphasis to inculcate a winning attitude and sustain it through refining skills," She explained. Positive thoughts, Motivation, strength, body language, & smile are key factors. Later she also gave some modeling tips to students.
Media Coordinator
98781-08888
---
Related Posts
---