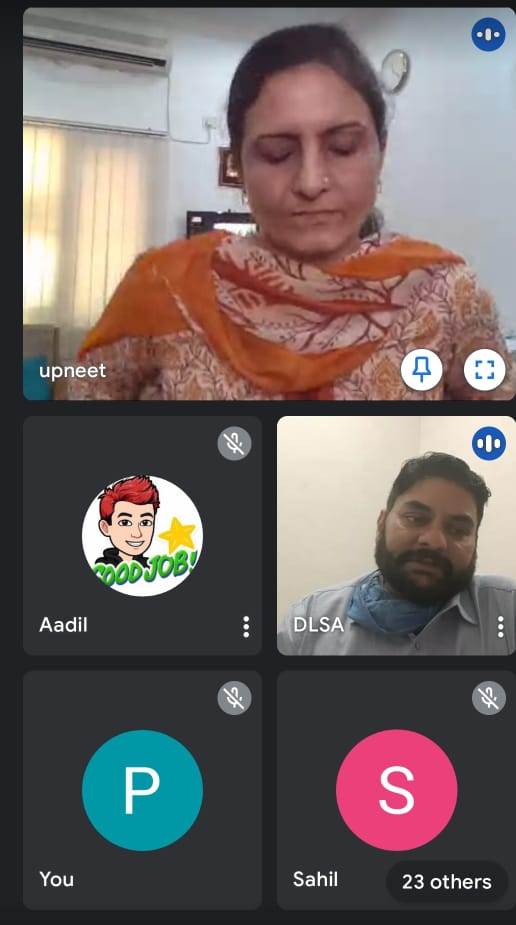 Aryans Law Students bags Summer E-Internship opportunity at District Legal Services Authority, UT Chandigarh
Mohali 7 July

Amid surging cases of Covid-19, the District Legal Services Authority (DLSA), UT Chandigarh organised Summer E-Internship programme for budding law professionals. 50 students of Aryans College of Law, Rajpura, Near Chandigarh were selected under this E- Internship programme. The Interns came across various eminent personalities who gave an insight into the Legal Aid and services mechanism besides literacy programmes and schemes framed for "Access to Justice for All".
During this 2 weeks long E- Internship various legal experts, psychologists and social reformers from Chandigarh including Sh Ashok Kr Mann; CJM-cum- Secretary, DLSA; Sh Rajeshwar Singh, Law Officer, State Legal Service Authority (SLSA); Ms. Seema Pascricha, Master Trainers of Mediation, Sh Neil Roberts, Chief Coordinator, DLSA; Dr Satinder Kaur; Chairperson, Child Welfare Committee; Dr Madanjit Sahota; Member, Juvenile Justice Board; Sh J. S. Jayra; Principal, Institute for the Blind; Mr. Dhananjay & Mr Simranjit Singh representing transgender Community; Sh V.K. Kapoor (Retd IPS); Member, Permanent Lok Adalat; Sh Vikramjeet Godwani; Incharge, Protection Home; Ms Sonal Kalia, Sr. Supervisor, Women & Child Helpline (181); Dr Upneet Lalli, Deputy Director, Institute of Correctional Administration etc adressed the interns on different social and legal subjects.
Dr Anshu Kataria, Chairman, Aryans Group extended gratitude to Hon'ble Mr Justice Jaswant Singh, Judge Punjab and Haryana High Court cum Executive Chairman, State Legal Services
Authority for giving the students an opportunity to interact with the team at Legal Service Authority. He further expressed his thankfullness to Sh Ashok Kr Mann, CJM cum Secretary, DLSA and his team and said that the knowledge and experience of grass root realties gained at the initial stage of academic pursuit would be immensely valuable in professional career of the students.
Ms Puneet Kaur and Mr Ankur Garg, interns from Aryans College of Law stated that they had wonderful experience learning with resource persons of DLSA, UT Chandigarh who made them aware about the problems and challenges being faced by certain sections because of social and economic barriers.
---
Related Posts
---