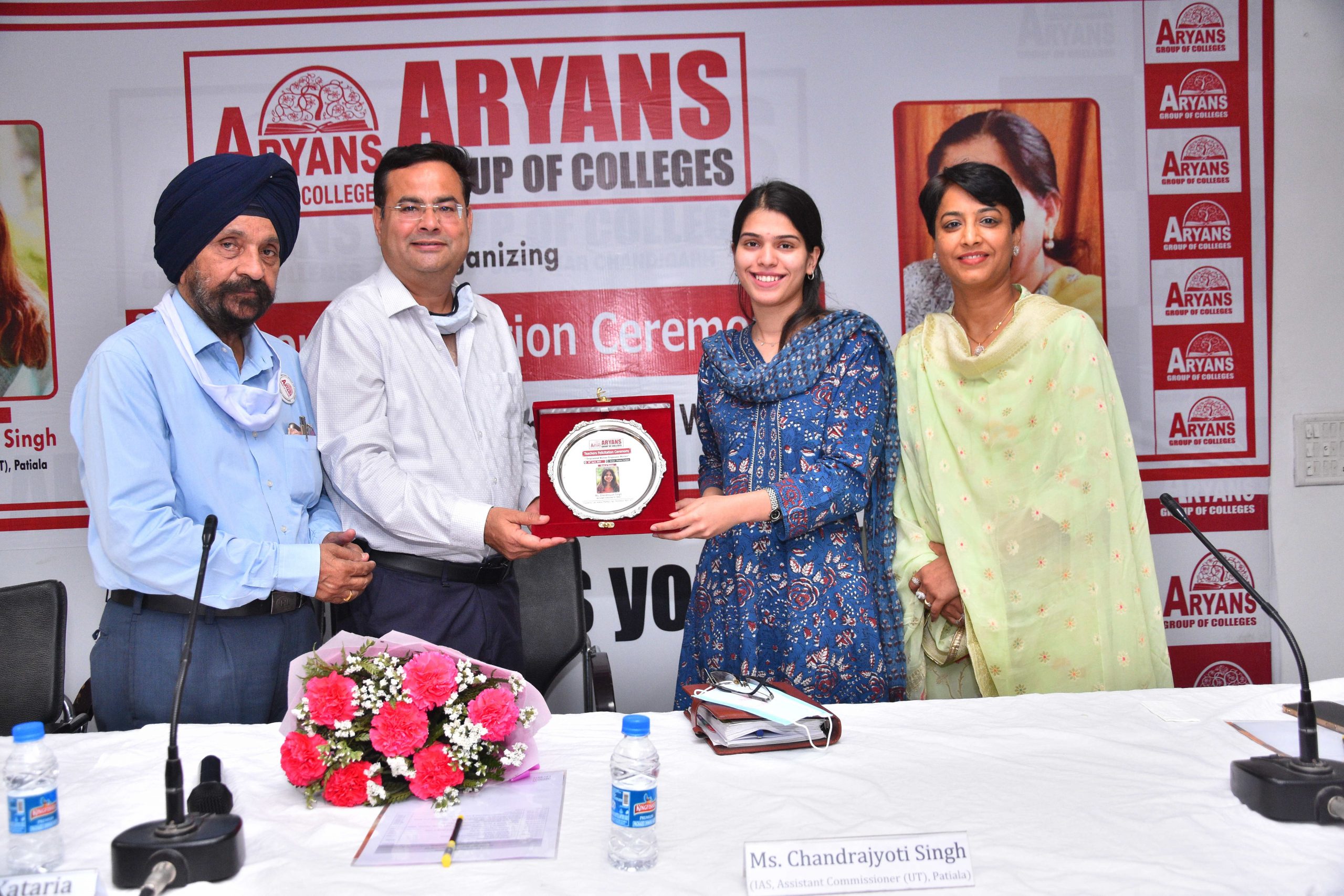 Aryans Honours best Principals/Teachers of the region
Assistant Commissioner (UT), Patiala was the Chief Guest
A seminar on "Empowered Woman Empowers Women" was organised by Aryans Group of Colleges, Rajpura, Near Chandigarh. The event was graced by Ms. Chandrajyoti Singh, IAS (UT), Patiala as Chief Guest. Dr. Anshu Kataria, Chairman, Aryans Group presided over this ceremony. Around 40-45 best science teachers were honoured on the occasion for their exceptional contributions in the field of education. Dr. Parveen Kataria, Director General, Aryans Group was the keynote speaker of the session & she spoke about accepting women's viewpoints, making an effort to seek them, raising the status of women through education, awareness, literacy, and training. From Patiala region more than 70 schools attended this event.
Singh appreciated the effort of Aryans Group for organizing the event. While addressing all she said that Education is the initial line of defense for women who withstand life-imperiling circumstances that traditional lifestyle perpetuates. It motivates a sense of supervision over personal fortune. As far woman empowerment is concerned, anyone educating a girl empowering her. However, concentrating solely on educating girls will not result in empowered women unless teachers are themselves skilled and active promoters of gender equality, highlighted Chandrajyoti.
Dr. Anshu Kataria said that Empowering women is the need of the hour as it is most required in the progress and development of the country. Not only women but also men should realize their responsibilities and share them. Both are equally important. Women need to change their mindset and voice their issues. They should identify their potential and no longer think of themselves as weak but become psychologically, mentally and physically strong. He thanked Assistant Commissioner for gracing the occasion. He also congratulated all women teachers for their extraordinary contribution in the field of education.
Renowned educationists including Smt. Veena Arora, S. Jatinder Singh, Smt. Mani Vashist, Smt. Indu Bala, Smt. Gurdeep kaur, Smt. Suman Bagga, Smt. Parminder Kaur, Sh. Sandeep Kumar, Smt. Maninderpal kaur, Smt. Neera, Sh. Balbir Singh, Smt. Gagandeep Kaur, Smt. Varinderjeet Kaur, Smt. Parvinder kaur, Smt. Sucheta Rani, Smt. Amanjot Kaur, Sh. Jagga Singh, Smt. Baljeet Kaur, Smt. Davinder kaur, Smt. Amandeep Kaur, Sh. Gurbhej Singh, Smt. Satvinder kaur, Smt. Balvinder kaur, Sh. Rajesh Kumar etc. were present on the occasion.
Prof. BS Sidhu Director, Aryans Group; Dr. JK Saini, Director, Aryans College of Engineering; Dr. Garima Thakur, Deputy Director; Ms Kusum Sood, Dean, Academics; Ms. Manpreet Mann, Dean, Scholarship etc. were also present.
---
Related Posts
---