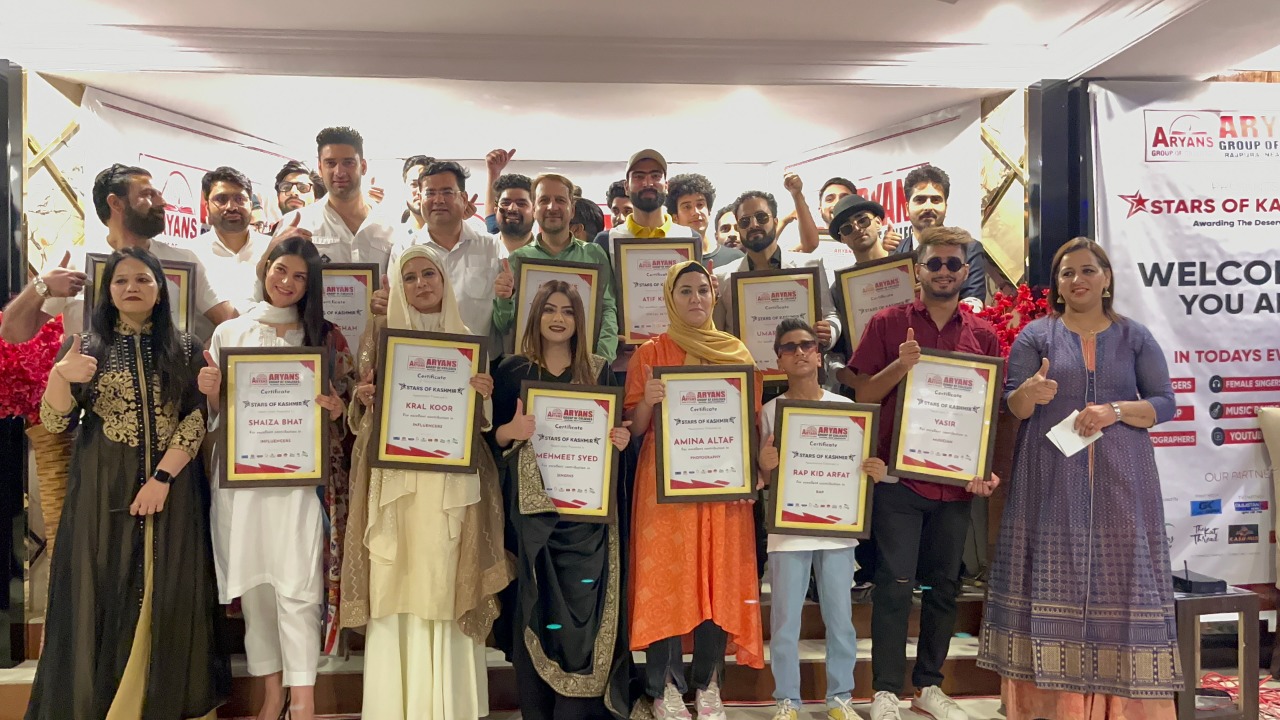 Aryans Group of Colleges, Chandigarh honoured 40 Kashmiri Artist in "Stars of Kashmir"
Secretary, Tribal Affairs Dept., Dr. Shahid Iqbal Choudhary; Director, Industries and Commerce; Director, Social welfare Department; Special Secretary, Tribal Affairs Dept., JK were also present
To promote young artists of the valley, Aryans Group of Colleges, Chandigarh organised an event "Stars of Kashmir" in Srinagar on theme awarding the deserving.
The event was graced by Dr. Shahid Iqbal Choudhary, IAS,Secretary, Tribal Affairs Dept., JK as Chief Guest while Mehmood Ahmad Shah, Director Industries and Commerce Kashmir; M. Shafeeq Chek, Director Social welfare Department Kashmir & Mohd. Haroun Malik, Special Secretary, Tribal Affairs Dept. JK as Guest of Honour. Dr. Anshu Kataria, Chairman, Aryans Group presided over the event.
The artist from various categories including Male & female singer, Dancers, Youtubers, Influencers, Stand ups, Social Activist, Music Bands etc were honoured in this event.
In his address while congratulating various artists Dr. Shahid Iqbal Chowdhury, Secretary, Tribal affairs Dept. said that I have visited Aryans Campus recently & it was proud to see the achievements Aryans JK students in academics, innovations, sports, placements etc. They are making the UT proud by the dint of their aptitude and innovative minds. He appreciated the efforts of Aryans Team & Dr. Anshu Kataria for organizing the event.
Mohd. Haroun Malik, Special Secretary, Tribal Affairs Dept., JK mentioned that recently I got the chance to interact with Aryans JK students during 11th Convocation of Aryans Group of Colleges in Chandigarh. Our JK students are not only bringing top ranks but have lot of potential & they are really doing wonders at Aryans & bringing laurels to entire valley, added Malik.
Dr. Anshu Kataria while addressing said that Aryans is the first choice of Jk students outside Kashmir to pursue higher education. We have majority of students from J&K which are not only academically strong but they are making the valley proud by doing Innovations too. He added that various Kashmiri Artists have been performing at Aryans Campus, Chandigarh since last many years & have enthralled the students of JK, Punjab, Himachal, Haryana, UP, North East, Bihar etc. Soon Aryans is coming up with Stars of Kashmir Season 2, addded Kataria
In this event, around 40 stars from Kashmir including Bashir Kotur, Actor; Gulzar Fighter, Actor; Adnan Shah, Influencer ;Popping Sam, Dancer; Bilal bhagat, Cinematographer; Anees Bhat, Photographer; MJ Star, Dancer; Yasir, Musician; Asif, Musician; Behzad Mallah, Stand Up; Jallad, Youtuber; Tariq Ghani, Influencer; Waqar Khan, Singer; Atif Khan, Social Activist; Shazia Bhat, Fashion Blogger; Kral Koor, Potter; Musaib Bhat, Youtuber; RajaAdam, Magician; Sethi Express, Youtuber; Kashmiri Kalkharabs, Youtuber; Idrees Mir, Youtuber; Rapper Ashu, Rap; Rap Kid Arfat, Rap; Umar Nazir, Singer; Babbar Mudasir, Singer; Ishfaq kawa, Musician; Mehmeet Syed, Singer; Yawar Abdal, Singer; Mohammad Muneem( Alif) etc. were honoured by Aryans Group.
It is to be mentioned that, established in 2007, Aryans campus is located on Chandigarh–Patiala highway, near Chandigarh and has lush green 20 acres pollution free campus and has become the destination for JK students. Aryans Group has been serving the educational and intellectual interests of the youth in a commendable manner. The Group is running Engineering College, Law College, Pharmacy College, Management College, Business School, Education College, Agriculture College, and Nursing College etc.
---
Related Posts
---