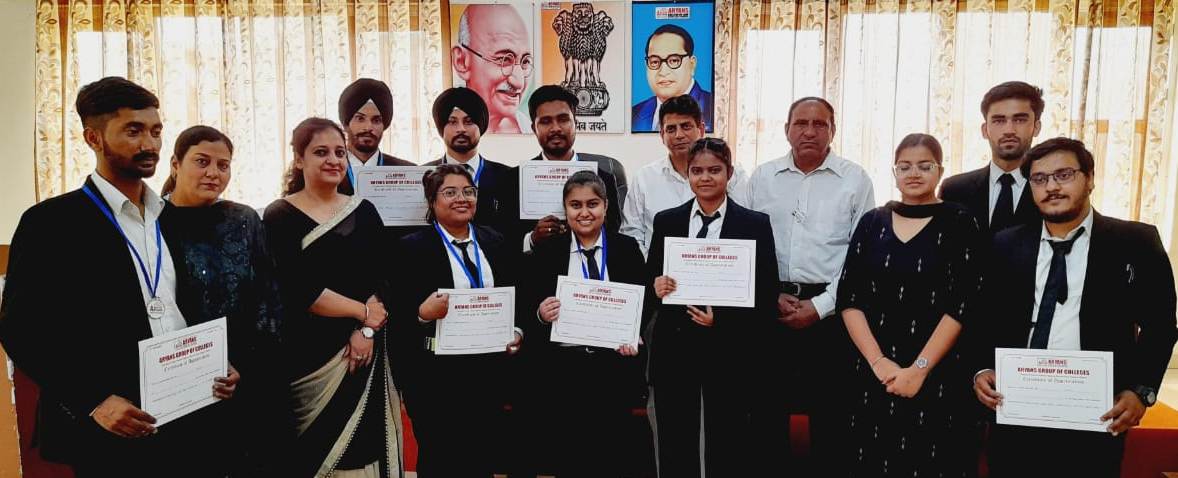 Aryans College of Law organises Moot Court Competition
Mohali, 30th April
With the aim to provide the practical experience of the Indian Court System & to enhance their advocacy skills an Intra College Moot Court Competition was organized by Aryans College of Law, Rajpura, Near Chandigarh. Adv. Bikramjit Passi, President, All India Human Rights, Social Worker graced the occasion as chief guest.
In his valedictory speech, Adv. Passi said, "Such competitions must be encouraged as students get to know the real rush of being a lawyer. It makes sure that the student doesn't miss out on the practical aspect of the field. Such application and practice of mooting skills would help them in their journey to become lawyers and as lawyers. It is a commendable effort by the team."
Dr. Anshu Kataria, Chairman, Aryans Group Congratulated the team including Kajal,Anish & Ranjit who are the winners of Intra College Moot Court Competition. He added that Moot court competitions are highly prestigious and hold significant value in the legal system. Dr. Anurag Dhiman, Dr. JK Saini were also present for judging various rounds.
The students displayed great enthusiasm and zeal throughout the competition.The competition consisted of Preliminary Rounds,  Semi-Final Round, and the Final Round. The Final Round was judged by Adv Bikram jit Passi. The Teams Including Kajal, Anish, Ranjit, Muskan, Nittin & Gurvinder appeared in the final round before the bench. Team 1 including Kajal,Anish & Ranjit present as Prosecution and Team 2 Muskan,Nittin & Gurvinder present as Defence.
---
Related Posts
---