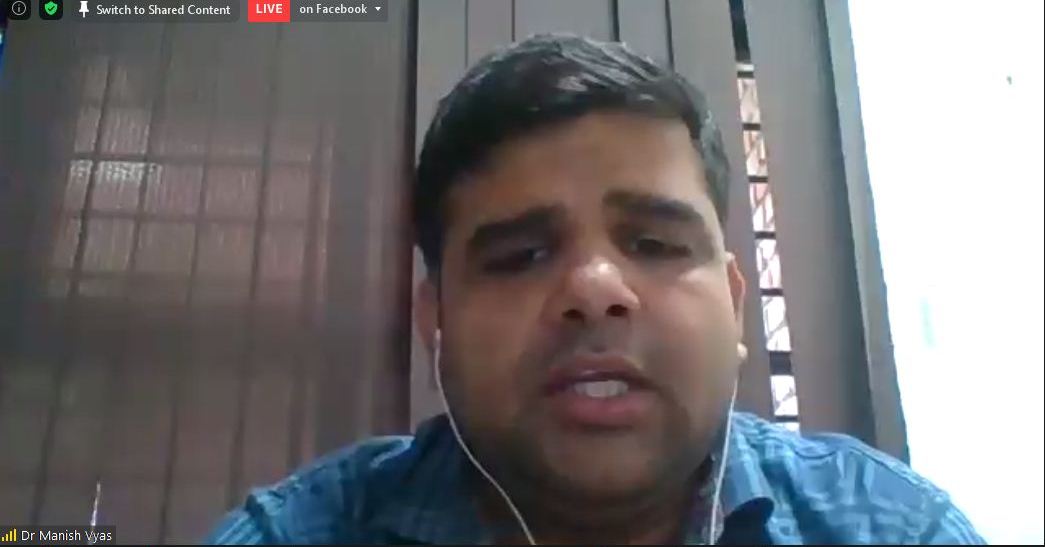 World Pharmacist Day Celebrated at Aryans
Webinar on Phytopharmaceuticals to transform Global Health in Covid-19 Pandemic held at Aryans
Mohali 25th September
Observing the vision of International Pharmaceutical Federation (FIP) & World Health Organization (WHO), Aryans Pharmacy College & Aryans College of Pharmacy Rajpura, Near Chandigarh celebrated "World Pharmacist Day". On this special occasion Dr. Manish Vyas, Specialist in Ayurvedic pharmaceutics interacted with Staff & students of B. Pharmacy & D. Pharmacy of Aryans Pharmacy College and Aryans College of Pharmacy & spoke on "Phytopharmaceuticals to transform Global Health in Covid-19 Pandemic". Dr. Anshu Kataria, Chairman, Aryans Group presided over the webinar.
Vyas while interacting with students said globally herbal medicine has been considered an important alternative to modern allopathic medicine. Phytopharmaceuticals are herbal medicines whose efficacy is down to one or several plant substances or active ingredients. They have been used for treating diseases since time immemorial, he added.
He further said that Plants produce an incredible variety of natural compounds. It is therefore not surprising that humans make use of this huge diversity. Historical sources show that the use of medicinal plants goes way back to the Bronze Age.
Vyas enlightened students that naturally existing compounds provide a wealth of chemical diversity, including antiviral activity, and thus may have utility as therapeutic agents against corona virus infections. There are promising compounds for the inhibition of coronavirus in humans include scutellarein, silvestrol, tryptanthrin, saikosaponin B2, quercetin, myricetin, caffeic acid, psoralidin, isobavachalcone etc, he explained.
This webinar also promoted values in pharmacy profession & caring for patients emerging needs during corona pandemic. Dr. Garima Thakur, HoD Agriculture Dept., Mrs. Kalindi Madaan, HOD, Pharmacy Dept along with the faculty members Ms. Manjeet and Ms. Pardeep also attended the webinar.
Media Coordinator
98781-08888
---
Related Posts
---