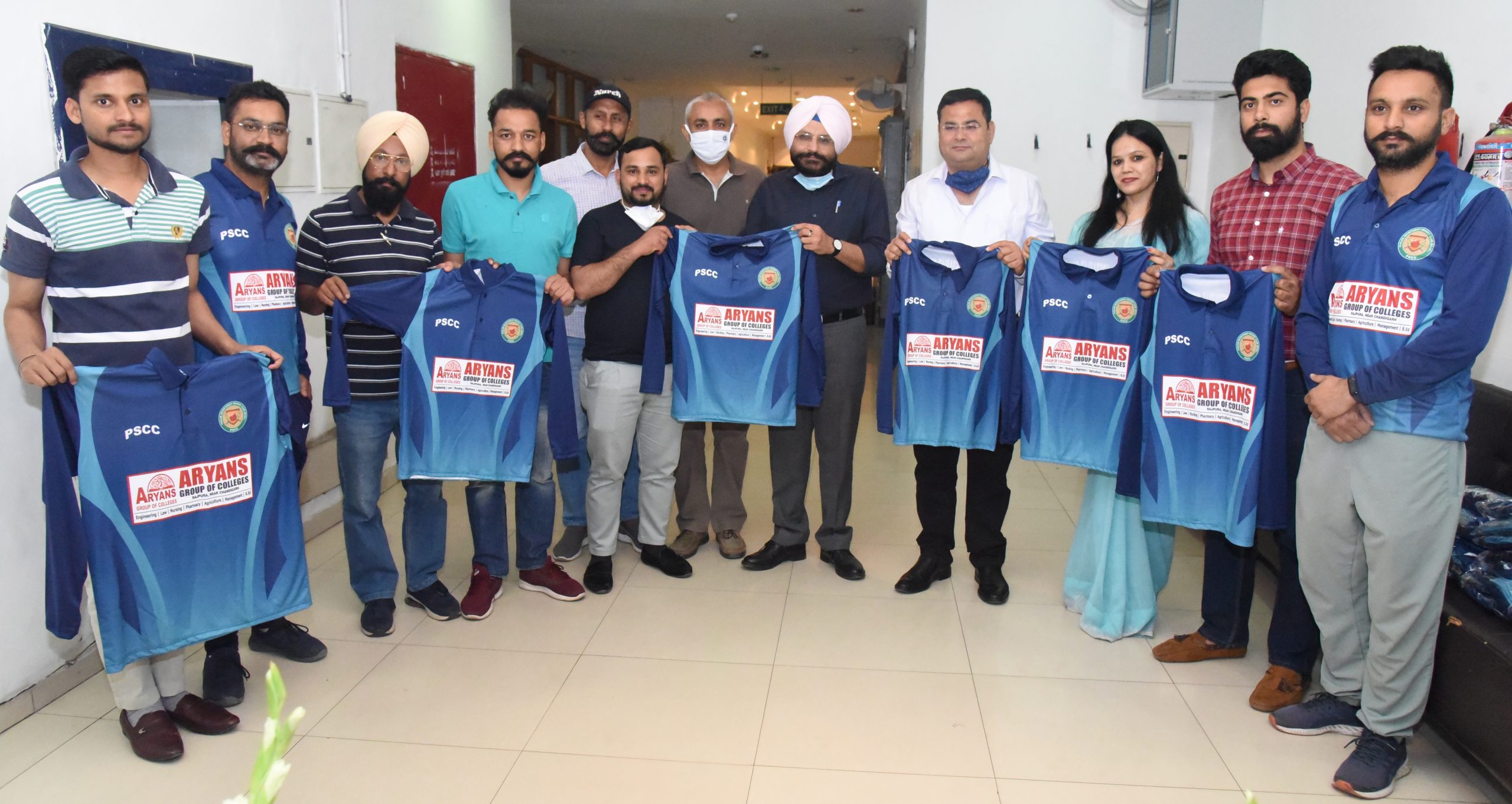 "T20 Avengers Cup" open cricket tournament launched by Punjab Secretariat Cricket Club & Aryans
With the objective of promoting sports and youth services in the state, the Punjab Secretariat Cricket Club (PSCC), in association with Aryans Group of Colleges, Rajpura, Near Chandigarh organized "Avengers Cup", T20 open Cricket tournament, Today, where around 16 teams from tricity would be participating.
In a brief program, Deputy Principal Secretary to the Hon'ble C M, Punjab & Chief Patron, PSCC, Mr. Gurinder Singh Sodhi was the Chief Guest while Dr. Anshu Kataria, Chairman, Aryans Group of Colleges was Guest of honour. In the opening ceremony, the official jersey of the club was released in the function by distinguished guests at Punjab Civil Secretariat. Later, in the closing ceremony, Dr. Kataria presented a memento to Mr. Sodhi.
While addressing the players, Sodhi said that besides working in the offices, the employees should also be aware of their health. Sports play a very important role in a person's life and make a person healthy and optimistic. He said that he himself cycles 50-60 km per day which keeps him fit. He apprised the members, players & guest about the achievements of PSCC in previous years.
Kataria while motivating the players said that Aryans always look forward to spread educational services in the state as well as to encourage the youth towards sports & for Avengers Cup, the Group is a major contributor to the PSCC jersey. He assured the players and the team management that he would continue to be associated with the club in the future and strive for the better performance of the club from time to time.
On this occasion, president, PSCC & team captain, Mr. Bhupinder Singh said that his team has been practicing for a long time and many tournaments will be played with different teams in the coming days. The Treasurer and Coordinator, PSCC, Mr. Naveen Sharma, said that his team is able to compete with any professional team and is participating in the "Avengers Cup" starting from 3rd April. The team is in high spirits and will play to give good results. General Secretary, PSCC Mr. Neeraj Prabhakar, Press Secretary S. Gurpreet Singh and S. Gurveer Singh were also present on the occasion.
On behalf of the management of Aryan Group, Deputy Director, Dr. Garima Thakur, Media Coordinator, Ms Manjit Kaur and Finance Officer, Mr. Manu Kataria were also present.


---
Related Posts
---