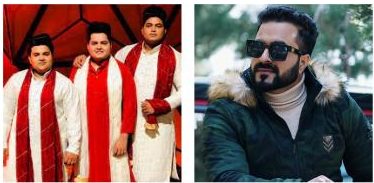 Punjabi Singers Ali Brothers to perform in Aryans 15th annual Cultural Extravaganza "Roshaan" on March 5 at Campus
Kashmiri Artist Umer Nazir to also perform
Punjabi Sufi Singers Ali Brothers & Kashmiri Artist Umer Nazir will enthrall audience of Aryans Group of Colleges in its 15th Cultural Extravaganza "Roshaan" to be held on 5th March at Aryans Campus. Hundreds of Students & Alumni of Aryans Group would attend this mega cultural function.
Ali Brothers are known for their high-pitched and melodious Sufi songs of the Patiala Gharana & have sung various songs including "Samaan", "Teri Umeed", "Rashke Kamar", "Dum Gutku", "Halka Halka Suroor" etc. Nazir, famous for his Illustrious voice & is well known for classical & pop songs Including "Rinda ho", "Dilbaro", "Haa Sher Sawaro", "Roshay", "Chaani Baapath", and many more.
Due to pandemic since two years, now 14th & 15th Roshaan are being celebrated together. This is the first physical mega cultural event after pandemic as in view of Covid 19 all cultural activities were organized on virtual mode.
It is to be mentioned that the cultural event would be in second half of the day after Aryans 10th annual Convocation on 5th March. Every year Aryans Group hosts two cultural event where Roshaan is the Cultural Extravaganza & Rajni is a celebration for fresher's welcome.
---
Related Posts
---