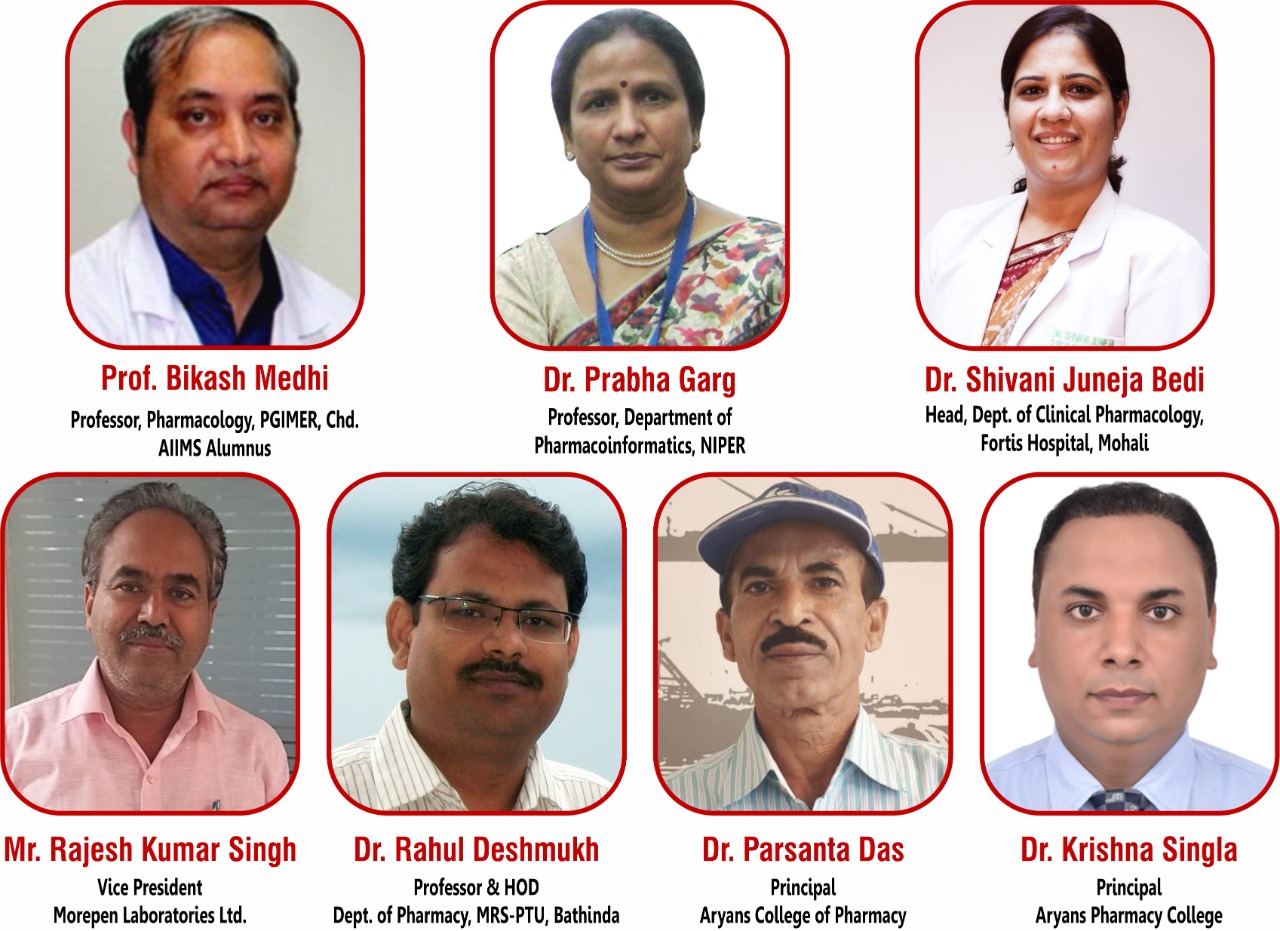 Experts from PGI, NIPER, PTU, Fortis & Morepen interacts with Aryans Pharmacy students on world Pharmacist Day
Observing the vision of International Pharmaceutical Federation (FIP) & World Health Organization (WHO), Aryans College of Pharmacy Rajpura, Near Chandigarh celebrated "World Pharmacist Day" on this year theme Pharmacy: Always Trusted for Your Health.
On this special occasion Dr. Bikash Medhi, Professor, Pharmacology, PGIMER, Dr. Prabha Garg, Professor, Department of Pharmacoinfomatics, NIPER, Dr. Shivani Juneja Bedi, Head, Dept of Clinical Pharmacology, Fortis Hospital, Mohali, Mr. Rajesh Kumar, Vice President, Morpen Laboratories Ltd. & Dr. Rahul Deshmukh, Professor & HoD, Dept. of Pharmacy, MRS-PTU, Bathinda interacted with Aryans B. Pharma & D. Pharma students. Dr. Anshu Kataria, Chairman, Aryans Group presided over the webinar.
Dr. Kataria while congratulating all speakers & while highlighting the importance of this day said that every year on 25th September, world pharmacist day is celebrated globally. The helping hands of the pharmacists especially during the pandemic are worth mentioning. So, it is important to give respect and pay tribute to the selfless services of pharmacists across the world.
Dr. Medhi while interacting said that Pharmacy profession has remained a trusted profession for the healthcare needs of people. Now the role of pharmacists will be more after this pandemic. Dr. Garg highlighted that modern sciences like artificial intelligence (AI) can contribute a lot of opportunities for business transformation in Pharma industry. AI has brought a radical shift in the pharma industry's innovation paradigm, added Garg.
Dr. Deshmukh said that India Pharmaceutical Industry is one of the best developed and fastest growing market that produces about 20 % of the world's drugs. Armed with new technologies this sector will bring the new generation of pharmaceutical scientists. Dr. Juneja while giving more information said that Pharmacists have an opportunity to educate the community regarding the risks and benefits of vaccines, provide information about safety and efficacy, explain the benefits.
Mr. Singh said that Indian pharmaceutical sector supplies over 50% of global demand for various vaccines. Globally, India ranks 3rd in terms of pharmaceutical production. The domestic pharmaceutical industry includes a network of 3,000 drug companies and around 10,500 manufacturing units.
The opening & closing remarks were given by Dr. Krishna Singla Principal, Aryans Pharmacy College & Dr. Parsanta Das, Principal, Aryans College of Pharmacy. On this occasion a quiz completion was organized & the students participated enthusiastically.
---
Related Posts
---