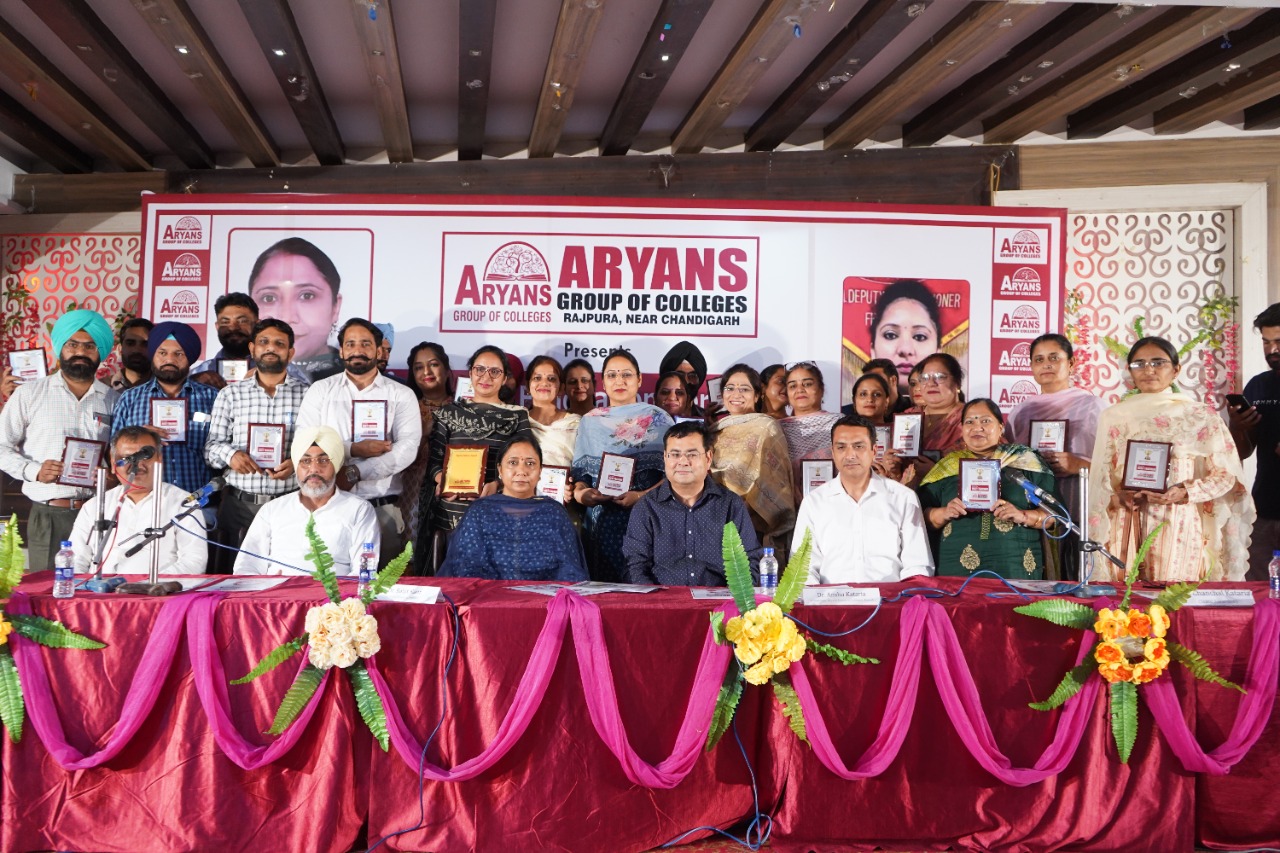 Cabinet Minister, Punjab honours best teachers in Aryans Group of Colleges, function
"In last govt, number of Post Matric Scholarship (PMS) Students came down from around 3,15,000 to around 1,75,000 because previous govt didn't bother about education of Punjab students. But Mann Govt. is committed to uplift the quality of education & we will ensure timely payment to each SC student studying under scholarship scheme. Teachers can play a significant role in motivating the students for higher education & I am feeling honoured in honouring the Science Teachers of this region in Aryans Function".
This is said by Dr. Baljit Kaur, Cabinet Minister, Social Security, Woman & Child Development in "Teachers Felicitation Ceremony" organised by Aryans Group of Colleges, Rajpura, Near Chandigarh. Dr. Anshu Kataria, Chairman, Aryans Group presided over this felicitation ceremony.
The Cabinet Minister was the Chief Guest of the occasion. Sh. Sunish Goyal, President, Kaccha Arhtia Association, Malout; Sh. Chanchal Kataria, State Awardee; Prof Gopal Singh, Secretary, Red Cross Society, Muktsar; Mr. Gagan Chugh, Bombay Institute, Abohar; Sh. Pankaj kumar, Child Development Project Officer, Malout & Sh. Lovely Sandhu, Block President, AAP were the Special Guest.
kaur congratulated all teachers & mentioned that teachers not only built an individual but they contribute to building a society. She further appreciated the effort of entire Aryans management & Dr. Anshu Kataria in organising the teachers felicitation ceremony.
Dr. Anshu Kataria said that Educators are going beyond their call of duty to teach students across the country even during the toughest of times. What they are doing is commendable and that is why Aryans Group of Colleges wanted to felicitate them for their remarkable contribution to the society to aware students towards higher technical & Medical Education ," said Kataria. He promised the minister to put the best effort in raising the awareness regarding PMS in Punjab & bringing the state on rank one under her guidance.
Renowned educationists Smt. Sureshta Kumari, Smt. Shweta Jasuja, Smt. Poonam, Smt.Anjali, Sh. Lucky Goyal, Smt. Bindia Sharma, Sh.Vinod Singh, Sh. Amrit Pal Singh, Sh.Gautam Khurana, Sh. Shavinderjit Singh, Sh.Harpreet Singh, Sh. Shivraj Singh, Smt. Seema, Smt. Kiran Yadav, Gagandeep Kaur, Sh. Montu, S. Sarbjit Singh, Smt. Monika, Smt. Shilpa, Sh .Satish Goyal, Sh. Bablu Goyal, Sh. Sanju Kamra, Sh. Krishan Kumar Goyal, Sh. Satwinder Singh, Smt. Kirandeep Kaur, Sh. Sunil Kumar, Sh. Amanjot Singh, Sh. Vikramjit, Sh. Manveer Singh, Satinder Kaur, Smt. Kulwinder Kaur, Smt. Anita Rani, Sh. Gurpal Singh, Sh. Gurdas Sharma, Sh. Rajesh Sachdeva, Sh. Gagan Singh, Smt. Valinderjeet Kaur, Smt.Rimpal , Sh. Harsh Bateja, Sh.Jagdev Singh Brar, Sh. Jashan, Sh. Julwinder Brar, Dr.Kiran Bateja, Smt. Geet Chabra, Smt.Alisha , Smt. Alka and Smt. Rajwinder Kaur etc. were present on the occasion.
Prof. BS Sidhu Director, Aryans Group; Dr. JK Saini, Director, Aryans College of Engineering; Dr. Garima Thakur, Deputy Director; Ms Kusum Sood, Dean, Academics; Ms. Manpreet Mann, Dean, Scholarship etc. were also present.
---
Related Posts
---