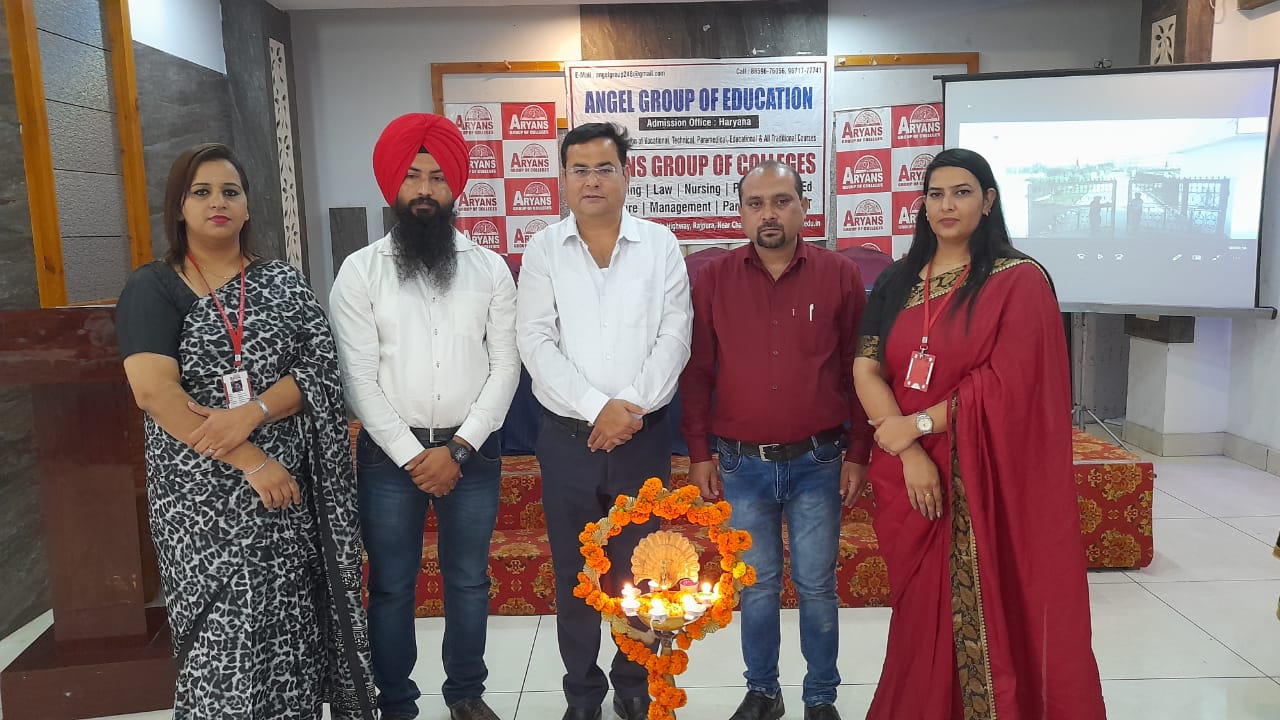 Aryans Group of Colleges Chandigarh organises Mega Education Fair at Kurukshetra
Education Fair organised in association with Angle Group of Education
A mega education fair was organised by Aryans Group of Colleges, Rajpura, Near Chandigarh in association with Angel Group of Education, Kurukshetra today at Hotel Celestial, Kurukshetra. Dr. Anshu Kataria, Chairman, Aryans Group was the Chief Guest while the event was presided over by Sh. Joginder Grover, Chief Executive Officer, Angle Group. Around thousand students participated in this education fair.
Dr. Anshu Kataria while appreciating the efforts of Angle Group & while addressing all present said that this Education fair for the session 2022-23 was a proactive platform that brought together students, parents and institutions for holistic career solutions for deserving students. The fair offered pre-counseling sessions and career guidance to students & focused on engineering, law, management, business, nursing, pharmaceutical sciences, polytechnic, etc. Apart from availing free career counselling, the students also got the opportunity to know about various scholarships program and on-the-spot admissions for the desired courses.
Joginder Grover said that there is always the struggle of dealing with admissions and related procedures. Most students have a million questions in their minds on various aspects of education, such as choosing the right university or college, the requirements for admission, university rankings etc. This is where education fairs come in to help answer student queries." He thanked Dr. Kataria for gracing the fair.
Manpreet Mann, Dean Scholarship, Aryans Group said that Chandigarh has become most preferred students for those students who wish to pursue their higher/technical education outside Haryana. Also being a peaceful city, parents also feel safe to send their wards here in comparison with Delhi, NCR or other places.
Ishu Sharma, Coordinator, Scholarship Dept., Aryans Group said that Aryans has become most preferred destination for students outside Haryana. Already around 500 students from Haryana are studying at Aryans Group in various Technical & Non Technical Courses. The students who were not able to be the part of fair can put their queries on 98787-44888.
Further, Er. Jaswinder Singh, HoD, College of Engineering said that Established in the year 2007, Aryans Group of Colleges has achieved many milestones in the field of Academics, Placements, Innovations, Sports, Cultural activities etc during the last 15 years.The group provides various courses including Engineering, Law, Management, Degree, Education, Nursing, Agriculture, Pharmacy, Polytechnic Diploma etc.
---
Related Posts
---