Aryans Group of Colleges, Chandigarh launches "Ladakh Super 30"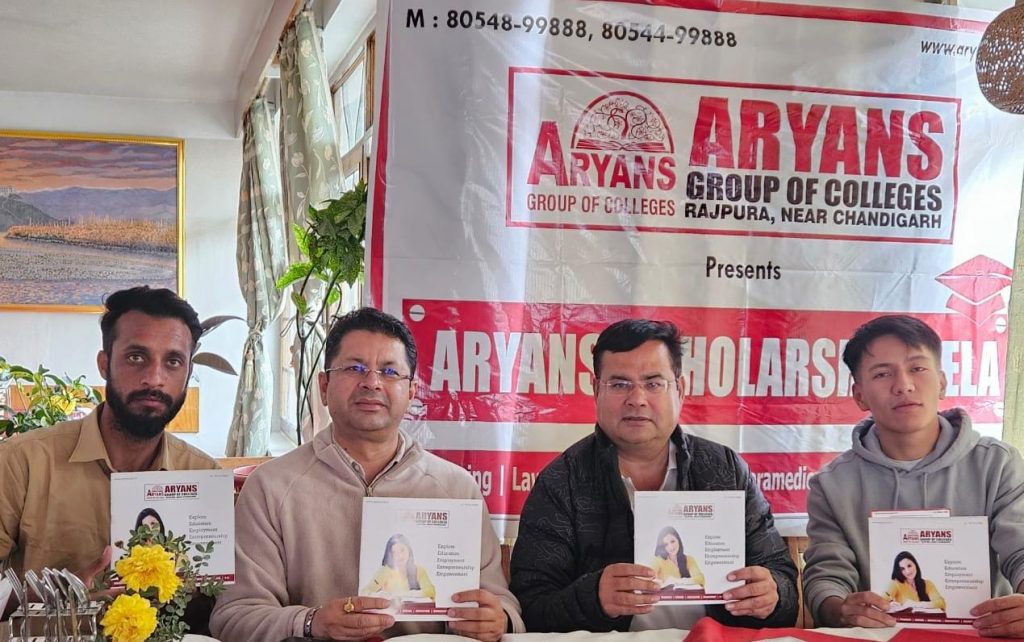 Aryans Group of Colleges, Chandigarh launches "Ladakh Super 30"
Ladakh June 17th
Aryans Group of Colleges, Rajpura, Near Chandigarh today launched "Ladakh Super 30" for the needy & deserving students of Leh & Kargil region.
The scheme would aim at providing higher education to needy & deserving students of Ladakh region on merit cum mean basis. The shortlisted students will get options to study Engineering, Law, Nursing, Pharmacy, Paramedical, Physiotherapy, MBA, BBA, BCA, Polytechnic Diploma etc. at Aryans Group of Colleges on 100 percent or partial scholarship.
Dr. Anshu Kataria, Chairman, Aryans Group also launched a toll free number 1800 123 33633 for students in a Press conference, today held at Dreamland Hotel, Fort Road, Leh. The interested students can enquire more about the scholarship scheme for Ladakh Super 30 through mentioned tol free number.
On the occasion, Adv. Amit Sharma, Chairman, AGC (Amritsar Group of Colleges) , Amritsar & renowned educationist of the region including Er Talat Mehmood Shawl, Er Asrar ul Haq, Mr. Aijaz Ali, Mr. Rais, Mr. Suhail, Mr. Saifwas also present
On the occasion, the students who brought laurels to Leh Ladakh region were also honored which includes Zainab khatoon, Sonam chuksit, Stanzin dolma.
It is to be mentioned that, established in 2007, Aryans campus is located on Chandigarh–Patiala highway, near Chandigarh and has lush green 20 acres pollution free campus and has become the destination for JK students. Aryans Group has been serving the educational and intellectual interests of the youth in a commendable manner. The Group is running Engineering College, Law College, Pharmacy College, Management College, Business School, Education College, Agriculture College, and Nursing College etc.
Also Aryans is the only campus outside Kashmir where the majority of students are from J&K. In past Aryans JK students have done many small innovations including "Shikara App", "Solar Boat", "Ramadhan App, "Android App, "eMunshi App" "Safety Helmet", "Save Kashmir" & "Life Saving Glove" for the Valley. Aryans JK students have also organized two shikara races which witnessed participation of hundreds of tourist in the world famous Dal Lake.
---
Related Posts
---