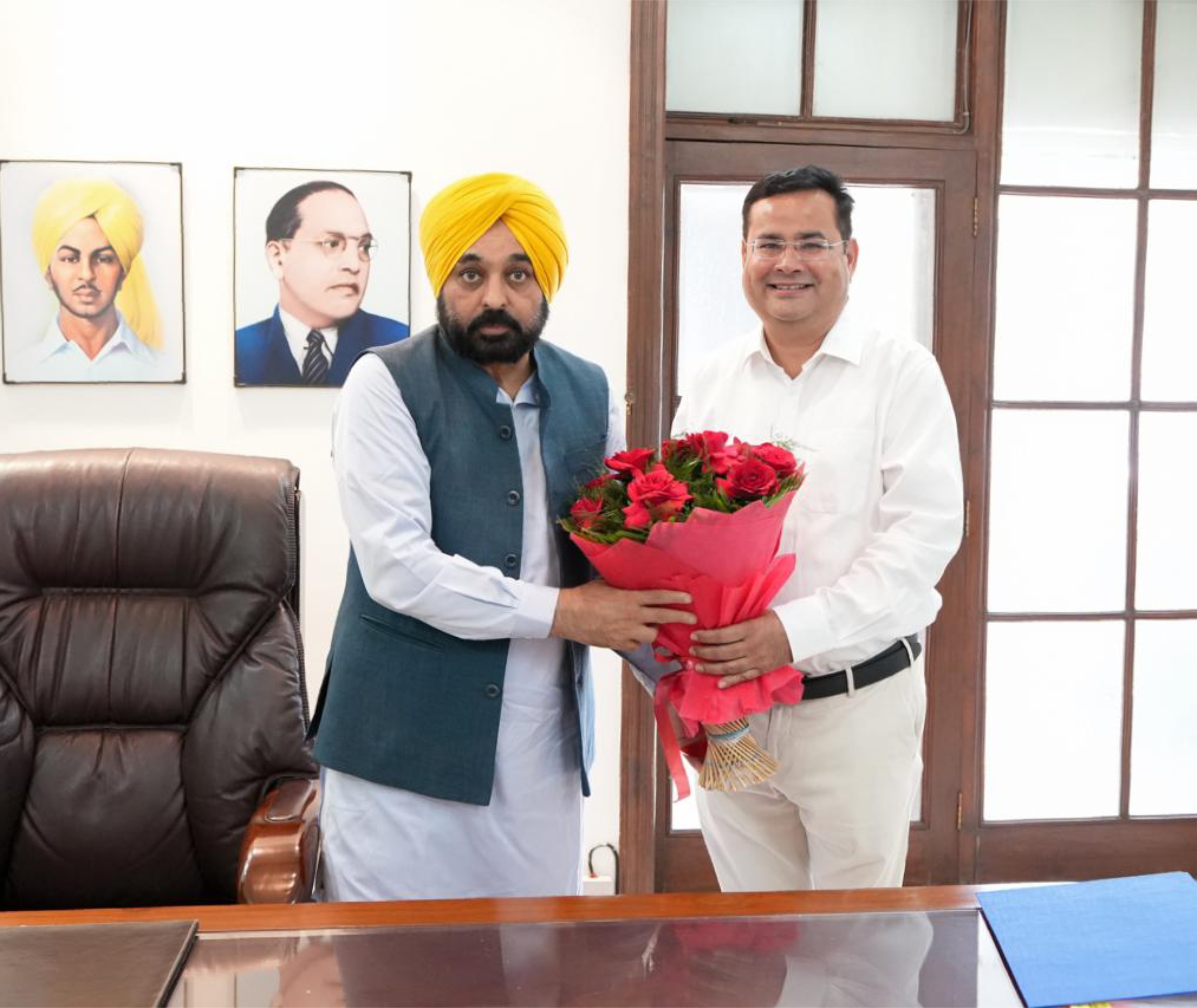 Aryans Delegation meets Chief Minister S. Bhagwant Mann
CM Punjab releases Official Jersey of Punjab Secretariat Cricket Club
With the objective of promoting sports and youth services in the state, the Punjab Secretariat Cricket Club (PSCC), in association with Aryans Group of Colleges, Rajpura, near Chandigarh would organize "Avengers Cup", T20 open Cricket tournament, in which around 16 teams from Tricity will participate.
In a brief program today, Chief Minister S. Bhagwant Mann launched the Official jersey of Punjab Secretariat Cricket Club at Chief Minister's Office. Dr. Anshu Kataria, Chairman, Aryans Group of Colleges was Guest of honour.
While addressing the players, Mr. Yash Pal Sharma, who is Senior Patron of Punjab Secretariat Cricket Club told the media persons that besides working in the offices, the employees should also be aware of their health. Sports play a very important role in a person's life and make a person healthy and optimistic. He said that he himself played for the club for a long time. He apprised the members, players & guests about the achievements of PSCC in previous years.
Anshu Kataria, Chairman, Aryans Group of Colleges while motivating the players said that Aryans always look forward to spread educational services in the state as well as to encourage the youth towards sports & for Avengers Cup, the Group is a major contributor to the PSCC jersey. He assured the players and the team management that he would continue to be associated with the club in the future and strive for the better performance of the club from time to time.
On this occasion, President, PSCC Sh Satish Chander,Senior Vice President Gurpreet Singh, Vice President Khushpreet Singh, General Secretary Gurbir Singh, Treasurer Amninder Singh, Joint Secretary Ranvir Singh Bhangu and Press Secretary Sahil Sharma and member Neeraj Prabhakar and Bhupinder Singh were also present on the occasion.
It is worth mentioning that Aryans Group and Bhagwant Mann have a 15-year old bonding. Mann has been a part of various programs of Aryans for the last 15 years, no matter what position he held.
It is to be mentioned that established in 2007, Aryans campus is located on Chandigarh–Patiala highway, near Chandigarh and has lush green 20 acres pollution free campus. Aryans Group has been serving the educational and intellectual interests of the youth in a commendable manner and is having around 3500 students from almost all States of the Country. The group is running Aryans College of Engineering, Aryans College of Law, Aryans College of Pharmacy, Aryans Business School, Aryans Institute of Management & Technology, Aryans College of Education, Aryans Degree College, Aryans Institute of Nursing etc.
---
Related Posts
---