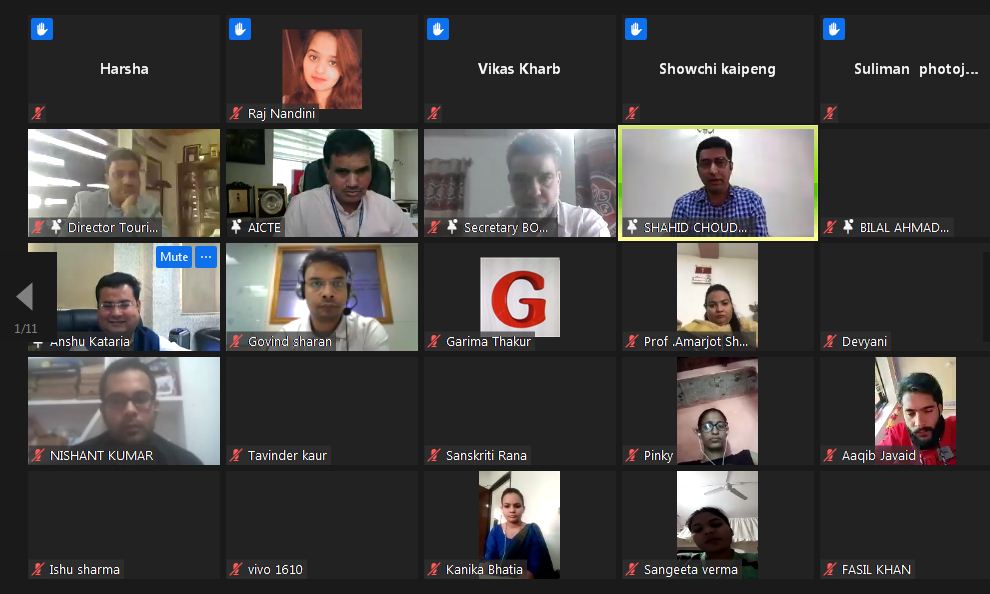 AICTE Vice Chairman addresses Kashmiri Youth in Aryans Webinar on Empowering Youth: Empowering Jammu & Kashmir
Over 28000 applied for Prime Minister Special Scholarship Scheme (PMSSS) from J&K in 2020 DC Srinagar; Secretary SBOTE; Director Tourism were the Guest of Honour
Srinagar 14th October
A webinar was organized by Aryans Group of Colleges, Rajpura, near Chandigarh on "Empowering Youth: Empowering Jammu and Kashmir" in which Dr M.P Poonia, Vice Chairman, AICTE was the Chief Guest. On the occasion, Aryans students made video presentations of their various projects including Shikara App, Ramadan App, Solar Boat, E- Munshi App and Life saving gloves. Over 5000 Kashmiri Youth and Youth from other states participated in the webinar.
Dr. Shahid Iqbal Choudhary, DC, Srinagar; Mr. Nisar Ahmad Wani (KAS), Director Tourism, Jammu and Kashmir; Er Mehmood Ahmad Khan, Secretary State Board of Technical Education J&K and Mr. G.N. Var, President Pvt. School Association, J&K were the Guest of Honour. Dr Anshu Kataria, Chairman Aryans Group presided over the webinar.
Dr Poonia while addressing Kashmiri Youth said that AICTE has received around 28,000 applications (14000 from Jammu and 14000 from Kashmir) from all around Kashmir under Prime Minister Special Scholarship Scheme (PMSSS). While addressing innovations done by Aryans Kashmiri Students, he further added that students must apply for grant of these projects and they can get funding upto 10 Lac. He also asked students to apply for visit Abroad grants in which they can also get upto 10 Lac funding.
While talking on Kashmiri issue he said that Kashmir problem can be solved with "Shaastra" (education) not "Shastar" (weapon). He also said that AICTE will be funding three hostels for the students in Kashmir. He accepted the invitation of Dr. Shahid Iqbal Choudhary, Deputy Commissioner, Srinagar and promised to visit Srinagar for launching of Aryans Innovations before 30th October.
Dr. Kataria said that there is a very popular proverb that "If there is a heaven on earth, it's here, it's here, it's here". Kashmir is heaven on earth and we are happy that Aryans is the only campus in the country in which Kashmiri students are studying in majority. There are a total 3500 students studying in Aryans in which 2000 students are from J&K. More than that, not only in innovations but also in the merit list of IKG-PTU, MRS-PTU, Punjabi University etc. in the last 13 years, these students have brought laurels and pride to the institute.
DC Srinagar added that he had heard a lot about innovations done by Aryans Kashmiri students. He said that Kashmiri students are very intelligent and they have a lot of potential for innovations. The cost of operations for the service sector is too low in J&K because of low cost man power. He quoted the example of call centers that the cost of setting up a call center in Delhi/NCR is around Rs 60,000 while in Kashmir it costs just Rs 20000. He further added that it is a matter of pride for the entire Kashmir Valley that the students are taking care of the people of their valley and innovating social projects for them which can also change the life of these people.
Nisar Ahmad Wani said that because of COVID 19 there is drastic fall in the tourism of Jammu & Kashmir but gradually lockdown is being opened up & soon tourism sector will be boosted in Kashmir. Wani further added that the Solar Boat developed by Aryans Kashmiri Students would always remain a point of attraction for tourists & locals. Wani further said that the directorate of tourism would provide every possible help to Aryans students for their existing & forthcoming innovations.
Secretary, SBOTE, said that the Board is committed to quality technical education in the state. He said that despite Covid 19 Board has conducted and declared the results. He appreciated the reforms done by Dr. M P Poonia, Vice Chairman, AICTE.
Mr. G N Var, while addressing said that majority of students from Kashmir join Aryans after their schooling where their skills get polished & they are motivated towards innovations. Var later thanked Dr. Kataria for fulfilling the promise done by Aryans Group in 2007 where better education for Kashmiri students was committed.
Media Coordinator
98781-08888
---
Related Posts
---