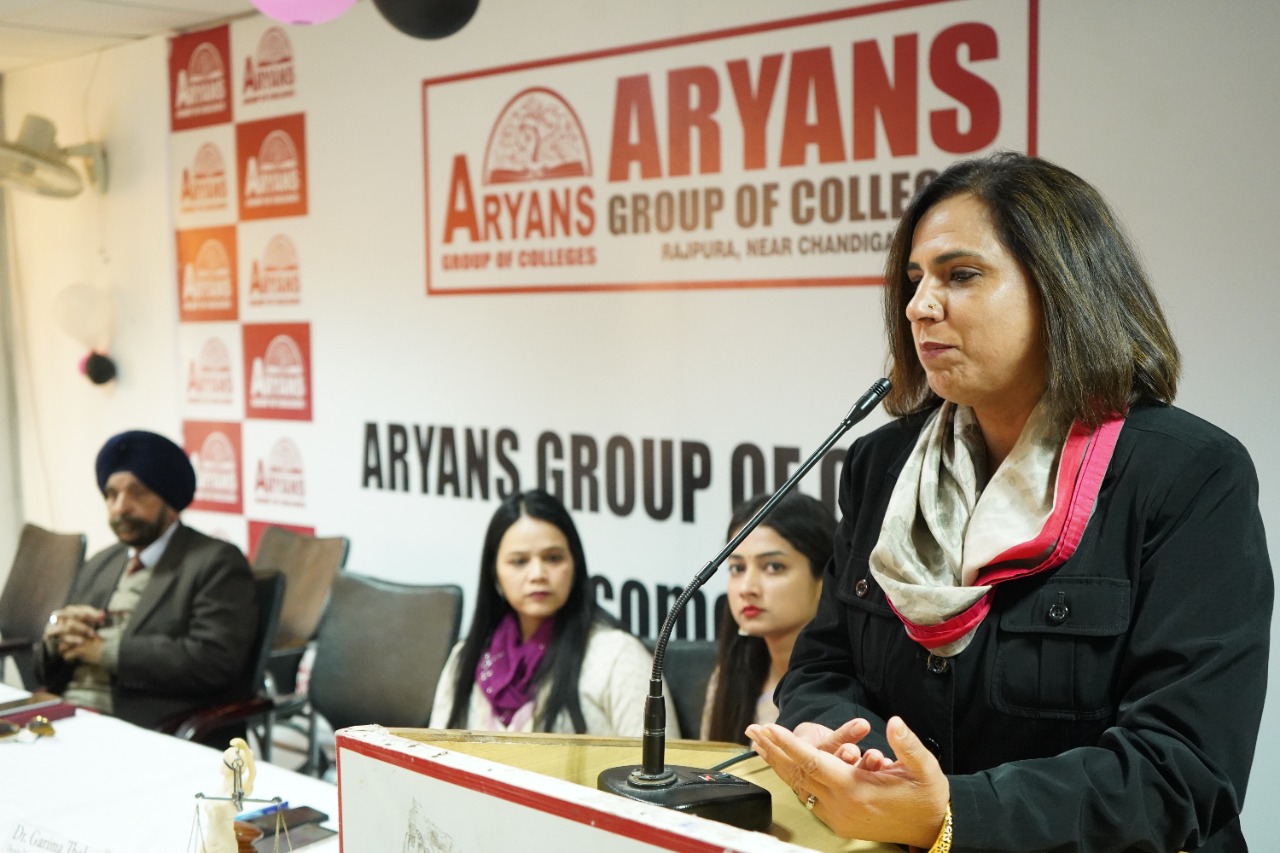 Aryans organizes Legal Aid Awareness Camp on National Consumer Day
To highlight the importance of consumer rights and to focus on the need to spread awareness about consumer importance and responsibilities, Aryans College of Law, Rajpura, Near Chandigarh organized Legal Aid Awareness Camp on National Consumer Day in nearby villages & the population was detailed about Voting Rights for Women, Fundamental Rights, participation in Panchayats, Marriage Law, Law on Divorce & Maintenance, Law against Domestic Violence, Dowry Prohibition and Female Foeticide. Mrs. Sukhman Bath, Deputy Chief Executive Officer, District Bureau of employment and enterprises, Patiala, Govt. of Punjab was the Guest of Honour. The camp was organized under the leadership of Prof BS Sidhu, Director, Aryans Group.
On the completion of camp while addressing & encouraging the law students in Aryans Campus, Mrs. Bath said that such awareness camp always impart practical knowledge about the basic legal rights and remedies provided under various women related laws & various machineries of the Justice delivery system available for redressal of their grievances. Consumers have been now empowered & has also brought changes in the process by which consumer complaints are dealt with, added Bath.
Prof BS Sidhu, Director, Aryans Group said that Legal literacy camp platforms act as catalysts to help everyone to engage constructively with the government and access their basic rights and entitlements, women's empowerment which are key for their survival and well-being. Aryans law students being a part of this awareness camps were exposed to practical knowledge which is a must for budding lawyers.
It is to be mentioned that December 24 is celebrated annually in India as National Consumer Rights Day to commemorate December 24, 1986, when the Consumer Protection Act received assent of the President of India. The students from LLB & BA. LLB including Anish, Kajal, Ranjeet, Muskan, Nitin, Sneh, Ravina, Madhuram, Balraj, Simran participated as volunteers in this camp.Ms. Sanskriti Rana, HoD, Ms Akanksha, Ms Swati, Ms Daljiner, Faculty Aryans College of Law were present.
---
Related Posts
---