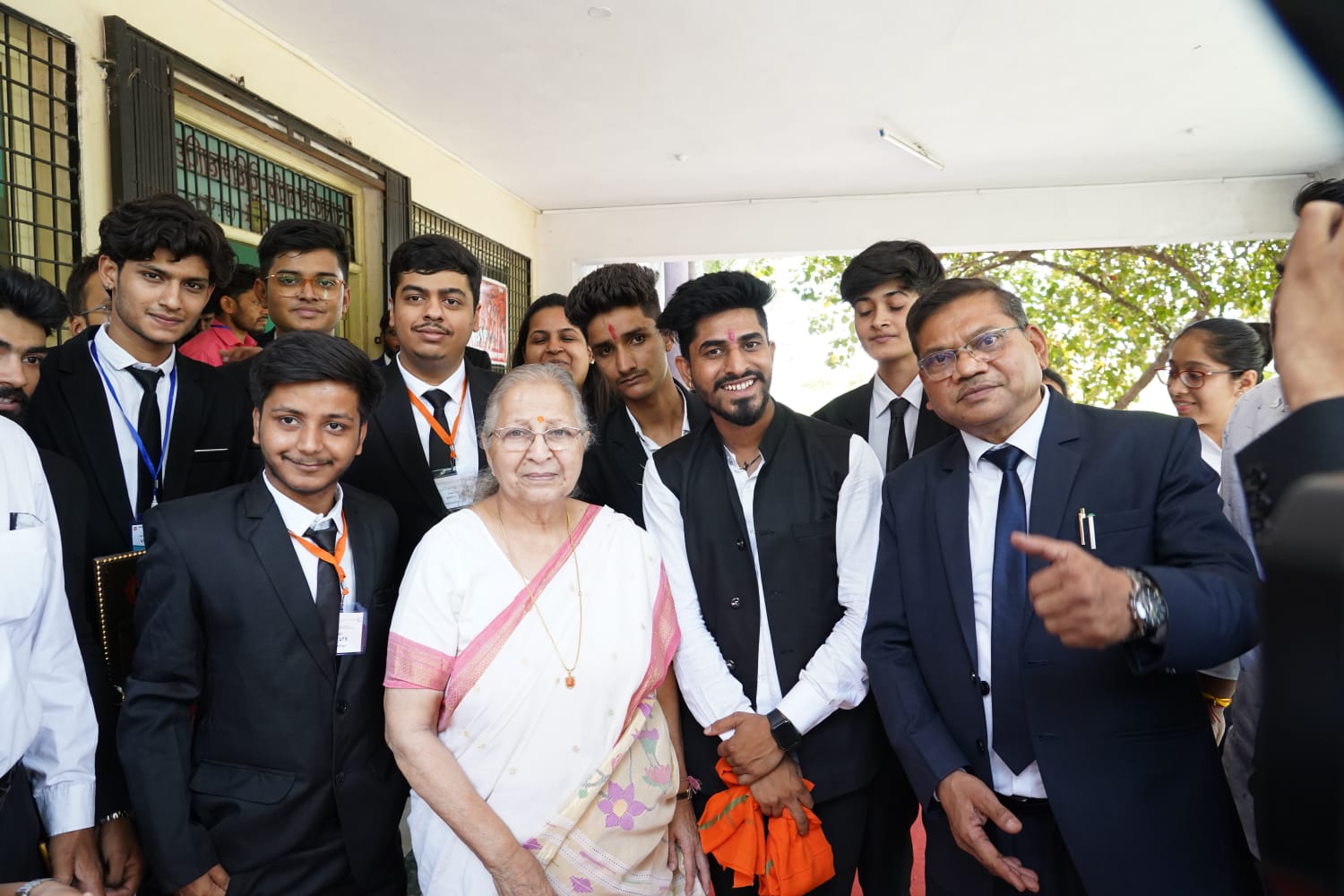 Aryans Law students participate in National Moot Court Competition at Indore
Former Lok Sabha Speaker, Smt. Sumitra Mahajan & Renowned legal luminaries were Present
With the aim to increase the ability of the law students to develop legal argumentation skills in the field of practical work, a two days National Moot Court Competition was Organised at Government New Law College (GNLC), Indore. The 14 teams from various law colleges across the country participated.
The BA-LLB students from Aryans College of Law, Rajpura, Near Chandigarh including Adil Goyal, Delisha Goyal Adarsh Jha participated in the competition. The inaugural ceremony was graced by Smt. Sumitra Mahajan (Former Lok Sabha Speaker), Sh. Pushyamitra Bhargav (Additional Advocate General, M.P Govt.), Dr. Sachin Sharma, Dr. Nisha Dubey, Dr. Suresh Silawat followed by distribution of Memorials for the Pre-Liminary & knock out rounds.
Various rounds were Judged by MR. Justice Ved Prakash Sharma (Former Justice, High Court, MP; MR. Justice Syed Ali Naqvi (Former Justice, High Court, M.P); Sh. Gulab Sharma (Retd. District and Session Judge, Indore); Sh. Lal Singh Bhatti (Retd. District and Session Judge, Indore); Dr. Inamur Rahman, Advocate (Principal, GNLC, Indore).
Dr. Anshu Kataria, Chairman, Aryans Group of Colleges said that a career in law often provides situations in which professionals are required to use their wits and research to come up with a solution to navigate through the complexities of the legal challenges they face. A moot court competition sets the groundwork for that process from the beginning. Therefore, the law students are entitled to this experience, asserted Kataria.
He also said that the endeavor of GNLC, Indore to organize a national-level competition is so appreciable where law students interacted with judges and academicians from across the country and gained a unique experience of learning how courtroom proceedings do play out in real life.
---
Related Posts
---